politics
On 250-Mile March, Turkey Opposition Starts to Find Its Way
By , , and
Leader of main opposition party leads march to Istanbul

Street action marks a switch in tactic as Erdogan clamps down
After walking for hours in the rain with a more than mile-long column of protesters trekking west toward Istanbul, Turkey's main opposition leader Kemal Kilicdaroglu swapped his wet sneakers for a pair of sandals to give his feet a rest.
It had been 20 days since he ventured from Ankara on foot with hundreds of others to resist President Recep Tayyip Erdogan's far-reaching crackdown on dissent. Along the way, the march has grown to about 30,000 followers, waving banners that say "adalet" or "justice" and blocking two lanes on the road connecting Turkey's biggest cities.

"We have a dictator reigning over us," Kilicdaroglu said while taking a break in a trailer parked near the town of Derince, about 75 kilometers (47 miles) east of Istanbul. "The goal of this march is to revive a democracy that's losing blood and a sense of justice that's been destroyed."
Despite being tired from walking about 20 kilometers a day in mostly scorching heat, Kilicdaroglu's enthusiasm was palpable. Before now, his Republican People's Party, or CHP, had avoided formally endorsing participation in mass protests, including the Gezi Park demonstrations four years ago that first gave the world a glimpse into the anti-government sentiment brewing in Turkey.
But the 69-year-old politician realized traditional forms of resistance were futile after Erdogan narrowly won a referendum in April to vastly expand his powers over government, parliament and the judiciary. The vote was tarnished by allegations of fraud because the election board, at the last minute, waived a legal requirement to invalidate ballots that aren't properly stamped. That left the 48.6 percent of Turks who cast ballots against the constitutional overhaul doubting the result, but mostly helpless to do anything about it.
Uniting Opposition
By organizing the 450-kilometer march, Kilicdaroglu has given them a platform to forge a united front to oppose Erdogan's power grab. He's been careful to avoid branding the demonstration as a CHP endeavor, compelling hundreds of artists, journalists, academics and Kurdish politicians to brave a summer heat wave and tag along.

"There was a broad mass that voted 'no' in the last referendum. One of the goals of the march is to grow that number," he said.
The tipping point that sparked the unprecedented act of mass defiance was the arrest of CHP member of parliament Enis Berberoglu, who was sentenced last month to 25 years in jail for allegedly leaking images to the press showing Turkey's intelligence agency was shipping weapons to Syria. He's being held at the Maltepe prison in Istanbul -- where Kilicdaroglu aims to hold a rally to mark the end of the march on July 9.
Berberoglu is one of the 50,000 people Erdogan has thrown in jail since he imposed a state of emergency after facing down a coup attempt in the early hours of July 15 last year, including leading journalists, academics and the heads of the pro-Kurdish party known as HDP. More than 100,000 Turks have lost their jobs in the purge. On Wednesday, eight human rights activists including the Turkish director of Amnesty International were detained at a hotel where they were holding a workshop.
Curtailed Freedoms
The route of the march took protesters through many of the small Anatolian towns where Erdogan has a stronghold. The marchers say Turkey's move to a presidential system further undermines the independence of the judiciary, particularly since Erdogan gets to hand pick almost half of the top judges. Others had loved ones in jail or were concerned about how their own freedom of expression is being curtailed.
"The fact that the main opposition is taking to the streets demanding justice alone shows how serious the situation has become," said Ferhat Tunc, 51, a folk singer who said he's being investigated for insulting the president in speeches and concerts. "I've been through the 1980 coup, and today it's much worse than that."
For more on Turkey's divide, click here.
Erdogan's lawyers are opening court cases against people accused of insulting him at a pace of more than 10 per day, justice ministry data show. Turkey is the world's largest jailer of journalists, according to Reporters Without Borders.
Even within the ranks of the ruling AK Party, opposition to Erdogan's vast consolidation of power is growing, and while his supporters may not vote for the opposition, they could be disillusioned enough to stay home at the next election in 2019, said Atilla Yesilada, an economist at GlobalSource Partners in Istanbul.
Kilicdaroglu's march represents an effort to keep ideologically diverse factions of the opposition together -- from nationalist to Islamists and secularists -- and to build a "non-partisan coalition to reject the presidential system," Yesilada said. Contrary to the party's image as ineffectual and impotent, the justice march is "the coup d'etat of effective opposition, because it is being applauded by AKP voters," he said, citing columns by pro-government journalists and analysts.
Divided Country
While the march is bringing together Erdogan's opponents, it's also revealed how polarized Turkey is. Erdogan has dismissed the protesters as defenders of terrorism, and counter demonstrations popped up along the way to show support for the president. The biggest will kick off on July 15, the anniversary of last year's failed coup, when Erdogan also plans a week-long "democracy watch" that will push his supporters into the streets.

Winding its way through Derince, a town of about 125,000, the rally was received enthusiastically by residents leaning out of windows to clap and cheer and truck drivers honking their horns, but also faced angry insults from groups flashing nationalist and Islamist hand signs. At one point, police had to intervene to stop half a dozen men from attacking the marchers.
"The chief of justice is here," 40-year-old Tayfun Cekin said from the sidewalk where he watched the protesters walk by, pointing to the framed portrait of Erdogan in his hands.
The protesters couldn't disagree more. They decry Erdogan's move to sack thousands of judges since last summer. Turkey ranked among the worst 15 countries on rule of law in an index published last year by the World Justice Project, trailing Iran and Russia.
"Judges feel obliged to rule for convictions in cases brought to them by the government," and hand out heavy sentences on thin evidence in an effort advance their careers, Kilicdaroglu said. Those who don't could find themselves accused of affiliation with the coup planners and fired or jailed, he said.
Approaching Istanbul
Mehmet Tum, an opposition lawmaker from the city of Bandirma, said Turks were nearing their breaking point as the number of Erdogan's victims grows, and predicted protests to pressure the government would continue. "This society won't accept it," he said. "However dictators in the world were brought down before, that's what we'll do."
The closer the march gets to Istanbul, an unruly metropolis of 15 million, the greater the risk of confrontation, especially if it swells to the hundreds of thousands as some in the rally predict it might. On Wednesday, officials said Turkish police foiled a plan by six Islamic State militants to attack and sabotage the rally. Four of them were detained in Kocaeli.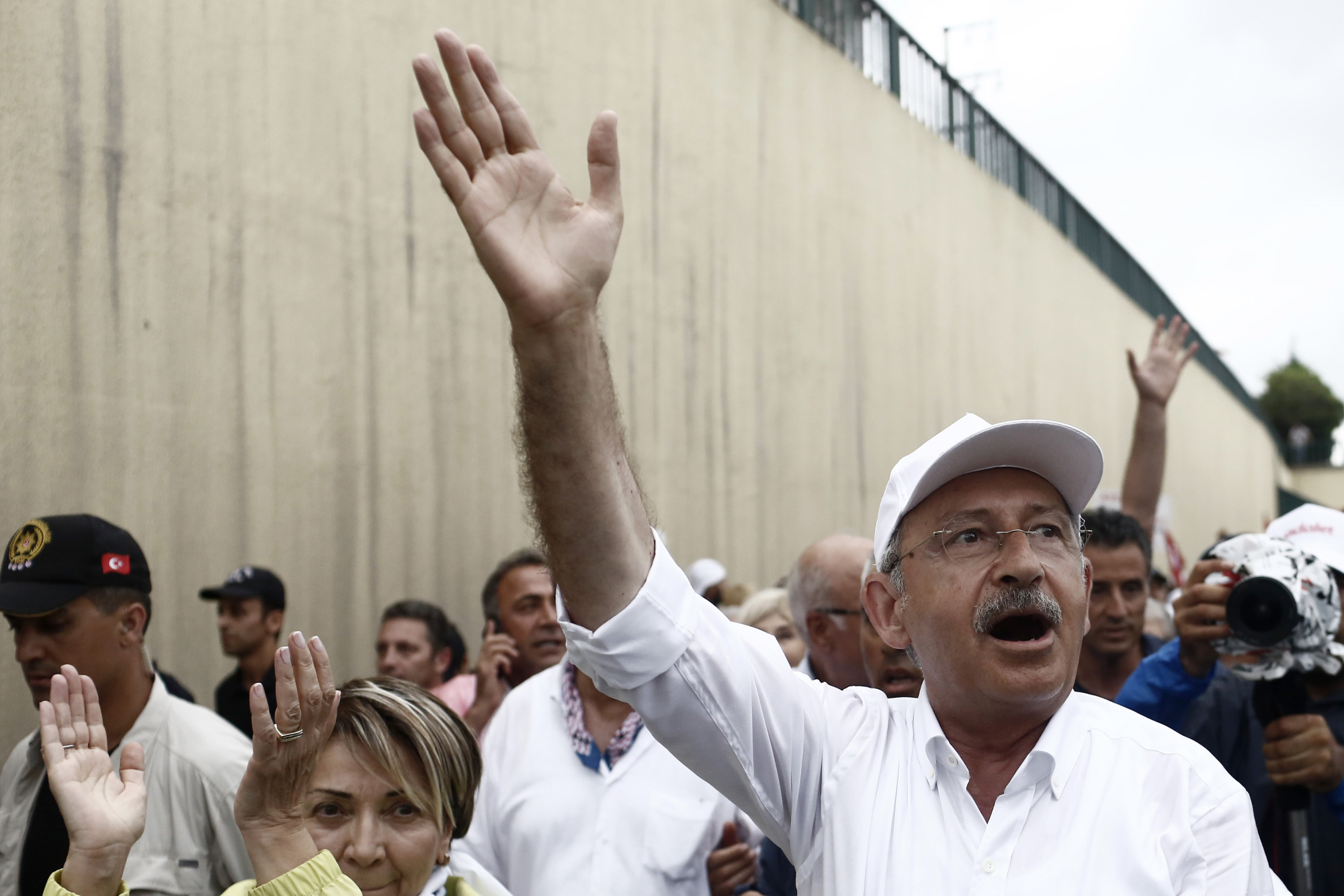 Kilicdaroglu, for his part, is keen to keep things peaceful.
"Everyone who thinks they've been a victim of injustice supports this march," he said. "Of course there have been those who protest, but our only reaction is to clap or to call out our slogan: 'Rights, Law, Justice."'
(
Updates with rights activists detained in ninth paragraph, analyst comment in 14th, Islamic State arrests in third from last.
)
Before it's here, it's on the Bloomberg Terminal.
LEARN MORE