Hong Kong's Lam Has Veiled Dig at Predecessor in Unity Call
By and
Carrie Lam tells legislature relations soured under Leung

Promises cooperation in effort to break political deadlock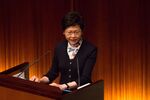 Hong Kong's new leader distanced herself from her predecessor's fraught relationship with lawmakers, vowing better communication as she sought to break years of political deadlock.
Five days after becoming the city's first female chief executive, Carrie Lam went before the Legislative Council on Wednesday promising more frequent meetings with lawmakers. Hong Kong's former No. 2 said her government would lobby the chamber's 70 democratically elected members directly to ensure their concerns were heard.

"I am a bit saddened seeing the internal conflicts and scuffles in the past few years," Lam said in a rare public critique of her ally and former boss, Leung Chun-ying. "Seeing the poor administrative-legislative relationship and the lack of trust between officials and lawmakers slow down the speed of policy implementation, I am concerned, but not disheartened."
Lam delivered the olive branch days after President Xi Jinping presided over her inauguration on the 20th anniversary of Hong Kong's return to Chinese rule on a promise of a "high degree of autonomy." Xi -- making his first visit since mass pro-democracy protests in 2014 -- warned Saturday that challenges to China's sovereignty wouldn't be tolerated.
Lam's speech to lawmakers was more accommodating and represented her most substantive attempt to differentiate herself from Leung, whose five-year term was marred by legislative gridlock and increasingly radical protest movements. Her challenge will be wooing his critics without running afoul of China's Liaison Office, which democrats have accused of meddling in local affairs.

"Even before she assumed office, she tried to make peace with legislators and other political parties in Hong Kong to offer something new to society rather than adopting the C.Y. Leung approach," said Chung Kim-wah, a political scientist at Hong Kong Polytechnic University. "The question is whether the Liaison Office is willing to step back and stop interfering."
Lam's first appearance at the legislature was largely orderly, despite pro-democracy lawmaker "Long-hair" Leung Kwok-hung being removed for rowdiness. Her predecessor's question-and-answer sessions were often interrupted by opposition lawmakers chanting slogans, throwing objects and staging walkouts.
Lam, 60, a one-time colonial civil servant who was preparing to retire before Leung decided not to seek a second term, has pledged to focus on healing political divides. China's support helped her overcome a more popular challenger in March to win an election by a committee of 1,200 political and business elites dominated by Beijing loyalists.
"At a time when some citizens are feeling anxious and confused, my top priority is to unite the society," Lam said. "Therefore, connecting all parts of society extensively would be an important job for me and my executive team." 
Read more: Xi says Hong Kong should profit from China -- not defy it
Lam is seeking an early victory in the legislature, where the pro-democracy opposition blocked many of Leung's most ambitious proposals including a China-backed overhaul of the electoral process. She started by proposing a HK$5 billion ($640 million) education fund, which includes converting contract teachers to full-time positions and paying annual subsidies of HK$30,000 for students who are funding their own undergraduate education.
The proposal appeared to enjoy across-the-board support. Wu Chi-wai, chairman of the opposition Democratic Party, said the move showed Lam's willingness to engage with stakeholders and "could improve the administrative-legislative relationship."
The test for Lam will come should she attempt to push through proposals that touch on more controversial issues, such the national security legislation sought by Chinese authorities. She'll also have to deal with rising tensions as the courts proceed with cases that could result in the ouster of as many as 10 pro-democracy lawmakers.
Legislator Alvin Yeung, leader of the opposition Civic Party, said he was withholding judgment on Lam for now.
"I adopt a wait-and-see attitude," Yeung said. "It is now premature to make judgments without seeing any concrete policies being put forward."
Before it's here, it's on the Bloomberg Terminal.
LEARN MORE