Goldilocks Markets Could End in These Three Ways, Nomura Says
By
Inflation, term premium, central bank reactions highlighted

Changes could push up rates, undermine confidence: Gaynor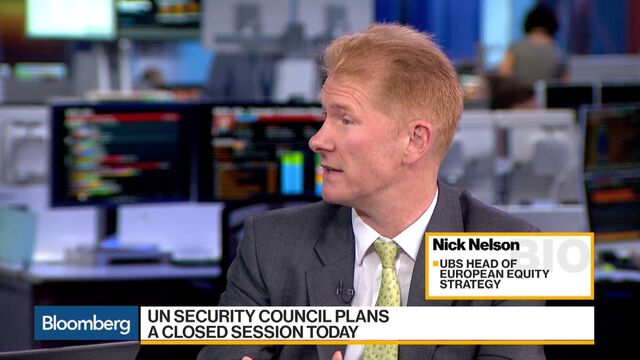 As the twin Energizer Bunnies known as the stock and bond markets keep rolling on and shrugging off risk after risk, analysts are sketching out what could trip them up.
Goldman Sachs Group Inc. analysts noted that wars and recessions tend to bring an end to eras of low volatility. Kevin Gaynor, head of international research at Nomura Holdings Inc. in London, is recommending that investors keep an eye on three more prosaic dynamics for signs that markets will turn:
A jump in inflation rates that wasn't driven by accelerating growth. This type of quickening could be from, for example, a supply shortage stemming from protectionist trade measures or from cuts in commodity production.
A change in central bank reaction functions, which is a wonky way to describe a shift in what triggers policy makers to act. If the Federal Reserve decided to play down the role of the inflation rate in setting policy, and instead put greater emphasis on asset-price valuations deemed to be out of whack with fundamentals, that would be such a shift.
An increase in the so-called term premium, which is the implicit extra return investors demand to hold longer-maturity bonds rather than keep rolling over shorter-term ones. Currently, term premiums in bond markets including Treasuries are seen to be very low -- and even negative. One possible shakeup for that is the start of the Fed's balance sheet contraction, expected to begin by year-end. Without the Fed as a ready buyer in the way it's been for almost a decade, it's hard to predict how things will pan out.
Those things aside, a tail-off in growth could trigger a shift in markets, though Gaynor notes that at least for the U.S. the indications are neutral or positive for the next couple quarters or more. The question is whether the "full cycle" should be the central scenario for markets and the economy. He concludes a "neutral" view should be that indeed the full cycle plays out.
"Markets have been pricing in a Goldilocks scenario: benign growth, low inflation and slow central banks and therefore high valuations and low implied volatility," Gaynor wrote in a note last week. "Yet while returns have reflected this view, volumes are light and few investors appear to be willing bulls."
Read: UST Term Premium Will Return With Vengeance: Nomura's Goncalves
The completion of the cycle would see inflation pressures continue to rise and central bank policies moving away from ultra-loose stances, eventually leading to the next downturn.
"The $64 trillion question is when that will happen," Gaynor wrote. "That depends on how quickly the economy grows and how quickly corporate margins roll over."
Before it's here, it's on the Bloomberg Terminal.
LEARN MORE