Former Xstrata CEO Davis Is Said to Back Commodity Hedge Fund
By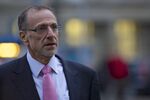 The former head of mining company Xstrata has backed a new industrial commodity-focused hedge fund.
Mick Davis, who left Xstrata in 2013 after more than a decade at the firm, was one of the early investors in Commodity Asset Management, the $10 million fund started by former AQR Capital Management trader Nathaniel Polachek and Jonathan Tulkoff, a physical commodity trader, according to a person familiar with the matter.
The New York-based firm started in January and focuses on industrial commodities, such as frac sand, tin and silicone, the person said. The firm also trades industrial commodity stocks and holds 10 to 14 core positions for as much as six months, the person said.
Read more: This week's Hedge Funds Brief
Polachek declined to be interviewed, as did Tulkoff.
Tulkoff, Commodity Asset's chief investment officer, is also the president of steel trading company Uniwire International. Polachek, who is the fund's portfolio manager, spent about four years at AQR as a vice president in trading, before leaving in 2015.
Mike Oke, a spokesman for Davis, declined to comment.
Before it's here, it's on the Bloomberg Terminal.
LEARN MORE