Ericsson Chairman to Step Down as Management Makeover Completes
By
Johansson's departure in 2018 clears slate for owners, new CEO

'The company now enters a new phase, with focus on execution'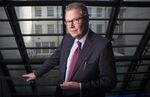 Ericsson AB Chairman Leif Johansson agreed to step down next year after seven years in the job, completing an overhaul of top management at the embattled Swedish network company. 
The time is right for Johansson to leave since Chief Executive Officer Borje Ekholm took over in January, the chairman said in a statement Wednesday. Activist investor Cevian Capital AB also took a stake in the Stockholm-based company this year, and is on the nomination committee that will search for a new chairman. Johansson, a former chief executive officer at truckmaker Volvo AB, has been in the job since 2011.

"The company now enters a new phase, with focus on execution, and we also have a new ownership constellation," Johansson said in the statement. "It is natural to let the owners jointly propose a chairman and well ahead of this I want to announce that I will not be available for a next term."
Ericsson's main shareholders, Sweden's Wallenberg family and billionaire Fredrik Lundberg, will have a major say on a new chairman. Ericsson stock has fallen by more than half in the past decade amid fierce competition and a slowdown in spending by wireless carriers. Moody's Investors Service in May cut the company's credit rating to junk, and the firm highlighted the risks of Ekholm's turnaround plan.

Ericsson rose 1.2 percent to 61.70 kronor at 11:43 a.m. in Stockholm, giving the company a market value of 205.5 billion kronor ($24.1 billion).
Ekholm's plan hinges on refocusing on Ericsson's core business of selling networking equipment, and pulling back in areas of former expansion that haven't panned out. He has said he'll exit more than $1 billion in unprofitable service contracts, and the company has hired banks to review a possible sale of its media holdings, people familiar with the matter said in June.
The company also needs to keep up with competitors Nokia Oyj and Huawei Technologies Co. by investing in product development, as carriers begin evaluating a new generation of gear that can deliver video to mobile phones and enable driverless cars.
Ericsson's attempt to establish a strategic foundation and create a new vision mirrors the process that Finnish competitor Nokia already went through, said Hannu Rauhala, an analyst with OP Group. "The renewal is good for Ericsson," he said. "They have to do something, there really is nothing else."
Johansson, 65, won't stand for re-election at the company's 2018 annual meeting, according to the statement.
The job of turning around Ericsson is complicated by the potential for dissent within the ranks of its major investors. Cevian built about a 5.6 percent stake in Ericsson earlier this year, and its co-founder, Christer Gardell, is on the nomination committee, which will give him a say in the selection of a new chairman. By comparison, the Wallenbergs' Investor AB and Lundberg's Industrivarden AB together control about 41 percent of the vote.
Gardell, who has criticized past management decisions that favored revenue growth over profit, has said he supports the plan put forward by Ekholm, 54, but may seek a faster pace of change than the Wallenbergs.
"I respect Leif's decision to not be available for re-election as Ericsson now enters a new phase," Gardell said in an email. "I don't wish to comment further on the work that lies ahead for the nomination committee."
— With assistance by Veronica Ek, and Hanna Hoikkala
Before it's here, it's on the Bloomberg Terminal.
LEARN MORE