Defense Lawyer for Brazil's Temer Slams Charges as 'Fiction'
By and
Antonio Mariz hands written arguments to lower house committee

Temer seeks votes in Congress to block trial at Supreme Court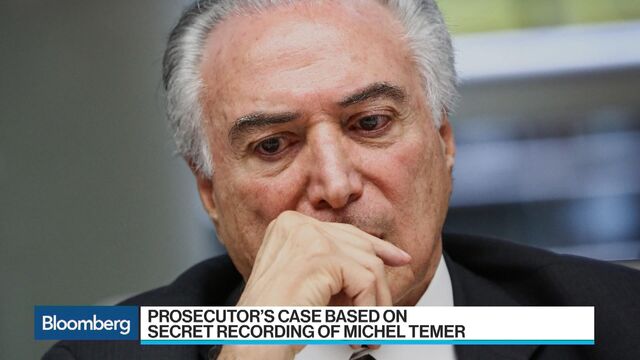 The lawyer for Brazil's Michel Temer has handed over written arguments defending the president to a congressional committee, the first stage of an attempt to block a criminal trial of the head of state at the Supreme Court.
The president has never been involved in anything illegal and the bribe-taking charge against him filed by the nation's top prosecutor is a "work of fiction", Antonio Claudio Mariz de Oliveira told reporters on Wednesday afternoon after submitting his defense to the lower house's Constitution and Justice Committee, or CCJ.
Temer is the first sitting president in Brazilian history to face criminal proceedings. If the charges are backed by two-thirds of Congress, Temer will be prosecuted at the Supreme Court and obliged to stand down as president for 180 days. If found guilty, he would be stripped of office permanently, and possibly jailed. At present, he appears to have the votes necessary to block a trial, but the current political volatility in Brasilia means the outcome is far from certain.
How to Try a President in Brazil - a Step by Step Guide
Prior to a vote in the plenary, the 132 members of the CCJ must discuss the case, with each lawmaker entitled to speak for up to 15 minutes. A vote in the committee, which amounts to a non-binding recommendation to the lower house as a whole, may not happen before July 17. Congress is due to enter into recess on July 18, but this could be suspended.
The administration is also bracing for further criminal charges against the president in the coming weeks from Rodrigo Janot, the chief prosecutor. It is not yet clear whether the lower house could vote separately on each case or bundle them together.
Opposition deputies sought to add to the pressure on Temer on Wednesday afternoon by filing further accusations against the president at the public prosecutor's office. They argue that Temer is using his office to buy votes to shore up his presidency, pointing to his busy schedule of one-on-one meetings with wavering lawmakers and media reports of pork-barrel spending.
Temer is due to travel to the G-20 summit in Germany on Thursday. The next-in-line to the presidency, house speaker Rodrigo Maia, will go to Argentina on a congressional visit. That means Eunicio Oliveira, the head of the senate, will stand in as president for the next few days.
— With assistance by Luisa Marini, and Gabriel Shinohara
Before it's here, it's on the Bloomberg Terminal.
LEARN MORE