How to Protect Your Trades In a New Era of Central Bank Hawks
By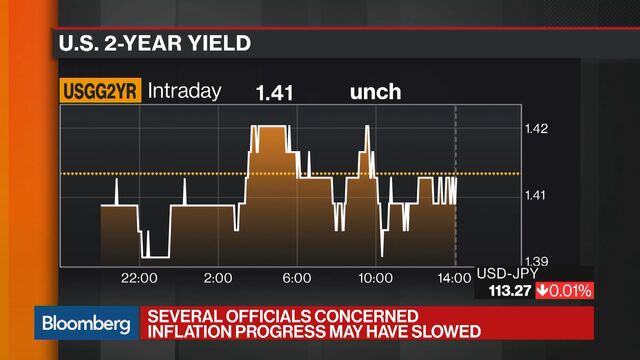 It begins.
The hawkish shift of rhetoric in recent weeks is increasing the odds that the next move of four of the world's five largest central banks will be to tighten monetary policy, setting the stage for an uptick in volatility in the second half of the year.

Here are some trading tips from strategists for battle-ready bond and equity investors.
Goldman Sachs Group Inc. recommends paring exposure to long-dated northern European bond markets, known as duration trades, projecting yields on 10-year bunds and gilts will hit 0.7 percent and 1.5 percent by the end of the year, respectively. (The U.K. and German benchmark currently yield 1.28 percent and 0.49 percent, respectively.) The strategists like long-dated inflation-linked bonds in the euro-area amid an uptick in prices for services. 
They also issue a note of caution: As U.S. and euro-area interest rates adjusted for inflation are likely to rise, use cash as a hedge for stocks rather than bonds given the prospect of losses in fixed income -- a headwind for risk-parity investors, in particular.
The warning is echoed by Peter Tchir, head of macro strategy at Brean Capital LLC. "Last week is merely the start of a trend that will see higher yields, lower equity values and higher volatility," he said. Grabbing Treasuries as a safeguard against holding equities at record prices -- a winning hedge this year -- could soon inflict a world of pain on investors as bond-stock correlations unravel in a rising rate environment, Tchir adds.
Bigger Picture
Volatility trades may finally begin to pay off in this scenario. It won't take much to move the dial, according to Macro Risk Advisors, citing a low base of volatility and the proliferation of exchange-traded products that allow retail investors to take a chance on whether tranquil market conditions will endure. They recommend snapping up short-dated call spreads on the iPath S&P 500 VIX Short-Term Futures ETN, the most popular security that gains when volatility rises.
TD Securities is looking at the bigger picture: The coordinated hawkish tilt by central banks means a weaker dollar over the medium term on a trade-weighted basis, ending the greenback's bull run since 2011, they reckon.
Credit investors should take notice: High-grade U.S. bonds are set to underperform lower-quality counterparts when the Fed begins to phase out of the practice of reinvesting proceeds of maturing securities held on its balance sheet, according to Bank of America Corp., citing the lack of cushion for interest-rate risk, and the rising supply of investment-grade securities amid the Fed's taper. 
For defensive investors betting the U.S. economy is running out of steam, the bank recommends reducing exposure to AA-rated credit spreads in favor of cash. Amid an increase in real rates in Europe, credit investors may seek safety in lower Tier 2 bank debt, and utility paper, the bank suggests. For now, they expect the bull market in credit to continue, citing positive technicals and low volatility in rates.  
Taper Strategy
"Investors have been buying bonds for capital gains and equities for yield -- this will not end well," says Alberto Gallo, head of macro strategies at Algebris Investments in London. While the Bank of England is bluffing in striking a relatively hawkish note in recent communications, reflation in the euro area is likely to spur tighter ECB policy sooner than bond market pricing suggests, he added. The euro rally may take a pause but still has legs into year-end, while financial stocks will continue to outperform, he said.
Morgan Stanley reckons the ECB will signal a taper strategy in September. They recommend selling 10-year German bunds and buying two- and 30-year notes at the same time in a so-called butterfly carry trade, a strategy to speculate on the likely shape of the yield curve.  
JPMorgan Chase & Co. recommends shorting Japanese bonds versus long positioning in Swedish debt.
As to stocks, Jefferies Group Inc. still reckons there's value in U.S. banks, citing positive earnings momentum and attractive dividend yields. Financials with a high proportion of floating loans and low loan-to-deposit ratios should outperform in a rising rate environment, such as lenders in Japan, Hong Kong and the U.K., in particular, according to Citigroup Inc. Still, the earnings boost for U.S. banks from higher rates is modest: Strategists see only a 2 percent uplift in earnings per share for every 100-basis points increase in yields relative to the existing forward curve.
More Bearish
For Citi and Morgan Stanley, tighter central bank liquidity isn't derailing the bullish outlook for emerging markets, citing a stable dollar, strong fundamentals, and the prospect that global bond yields won't rise faster than nominal gross domestic product, reinforcing the allure of returns on developing economy assets. Market dips as risk appetites ebb and flow offer an opportunity to enter local currency trades, according to Citi. 
Citi credit strategist Matt King is more bearish on the outlook for global markets, citing the risk that synchronized monetary tightening will trigger a rise in bond spreads, dragging down stocks from record levels. He recommends a portfolio-allocation process that favors assets at both ends of the credit risk spectrum, at the expense of obligations in the middle, while synthetic credit instruments, such as derivatives, are likely to outperform bonds as monetary authorities downsize their balance sheets. "Every time central banks scale back, investors head for the exit," he warns.
— With assistance by Stephen Spratt
Before it's here, it's on the Bloomberg Terminal.
LEARN MORE