Barclays Chairman 'Confident' London's Euro-Clearing Hub Is Safe
By and
Cost of shifting operations may protect U.K. financial firms

McFarlane also chairs TheCityUK financial lobbying group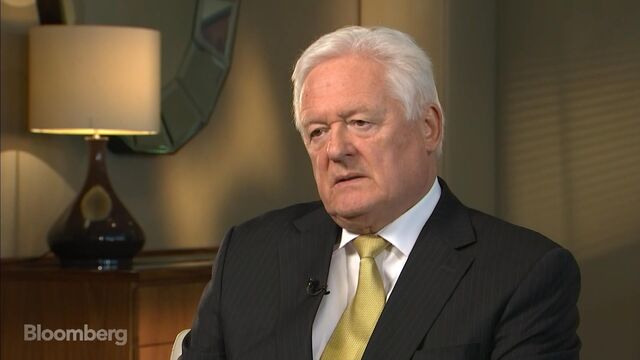 Follow @Brexit for all the latest news, and sign up to our daily Brexit Bulletin newsletter.
Barclays Plc Chairman John McFarlane said he's confident much of the trading, clearing and fund-management activity involving the euro will remain centered in London, countering dire predictions of a mass exodus of bankers from Britain after Brexit.
"The right thing for the European Union and for the U.K. is to retain a significant proportion" of euro-related business in London, McFarlane said in an interview with Bloomberg Television. Cross-border, mostly electronically executed activities like euro clearing are less likely to be forced to move than other bank businesses, he said.
"We're pretty confident that quite a degree of wholesale activity, even clearing activity, et cetera, fund management, will remain in the U.K. and London in particular," he said.
Euro-derivatives clearing has been a key battleground ever since Britons voted to leave the EU in June last year, with French and German leaders threatening to forcibly repatriate those operations. The comments from Barclays's chairman, who also heads TheCityUK lobbying group, indicate the differing opinions on Brexit among Britain's business elite. Xavier Rolet, chief executive officer of London Stock Exchange Group Plc, has warned as many as 232,000 jobs are at risk.
Scottish-born McFarlane, who turned around insurer Aviva Plc before taking over the chairmanship at Barclays, said the dispute over euro clearing was largely political, because there's no economic rationale for moving the business out of the British capital.
To read more about the ECB's pressure on euro clearing, click here.
"To my knowledge, nobody has asked for clearing to move from the business standpoint, because it's actually working very efficiently the way it is," McFarlane said. "I don't think it will work, aside from anything else."

Clearinghouses collect collateral and stand between traders to prevent a default from spiraling out of control. Their role has become far more entrenched since the 2008 financial crisis. The business has been concentrated in London because it is more efficient for banks to hold all their swaps in one place than it is to hold them at multiple clearinghouses. Banks can reduce their margin payments by using positions in one currency to offset their positions in another.
The Bank of England estimates a single basis-point cost increase that might result from splitting the clearing of interest-rate swaps could cost firms across the euro zone 22 billion euros ($24.9 billion) a year, according to a June 27 report. 
The U.K. has found an unlikely ally in Germany's top financial regulator, who said he wasn't a "fan" of stripping London of euro clearing.
"I would warn against jumping too quickly on solutions that look interesting at first glance, but could end up triggering a lot of protectionist collateral damage," BaFin President Felix Hufeld said in Frankfurt May 9. "You have to be clear what consequences this can have."
Transition Sought
Given the systemic importance to the continent, it is "not unreasonable" that EU authorities should be granted "some form of oversight" of euro-related activities within the U.K., McFarlane said.
"If the price is shared regulatory oversight, then it is a price worth accepting," said McFarlane at TheCityUK conference in London on Thursday. Fragmenting the "current superior offering in London will inevitably lead to higher costs and capital and is undesirable in practice, whatever the politics."
The world's biggest clearinghouse may accept its potential fate post Brexit. An executive at LSE's clearing unit has said EU oversight of its euro operations makes sense.
"A sea as big as the channel isn't too big to make enhanced oversight work," Daniel Maguire, group chief operating officer at LCH Clearnet, said on June 7.
In the interview McFarlane reiterated calls for a multi-year transition arrangement to avoid a "cliff-edge" Brexit that would damage both sides. It's still desirable to end up with a free-trade agreement allowing some mutual access to each other's markets, McFarlane added.
After the ruling Conservative Party lost its controlling majority in U.K. Parliamentary elections last month, politicians such as Chancellor of the Exchequer Philip Hammond are pushing for a softer version of Brexit.
"Of course the government has listened" to financial services, McFarlane said. "Well, we think so. But we don't actually know at the moment what the stance is, because there is a lot of political uncertainty. We don't think it could have gotten harder."
TheCityUK is hosting its annual conference in London Thursday.
— With assistance by Gavin Finch, and Will Hadfield
Before it's here, it's on the Bloomberg Terminal.
LEARN MORE