politics
Austerity Stays: U.K. Sticking With Public Sector Pay Cap
By and
Prime minister answered questions on pay freeze in Parliament

Cabinet is split over whether to drop the 1 percent limit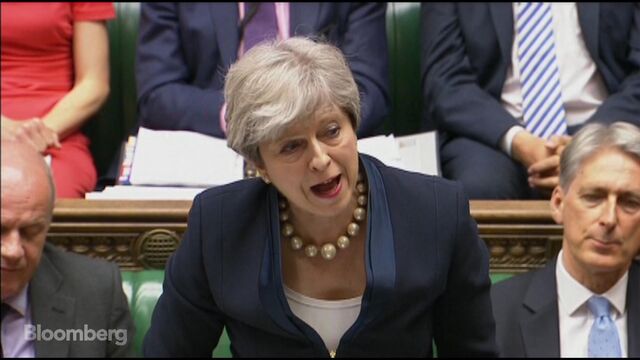 Under pressure to drop austerity, U.K. Prime Minister Theresa May refused to buckle to calls from the opposition and some of her senior Conservative ministers to drop the pay cap for public sector workers.
May was badgered on the issue by opposition Labour leader Jeremy Corbyn during a parliamentary question-and-answer session and stuck to her guns. He accused her of finding 1 billion ($1.3 billion) to keep her own job -- referring to the deal her party reached with the Democratic Unionists -- but not the "money for the nurses who help us all."

While the government will "carefully" review recommendations for those civil service occupations on which pay bodies have yet to report -- such as police, prison officers and teachers -- the existing 1 percent cap has already been accepted by most, May said.
"I understand why people feel strongly about their pay," she said. But her government "will always recognize the need to ensure that we take those decisions against the need to live within our means."
The comments bring some clarity to the government's position on a contentious topic, which has drawn conflicting comments from May's own team. It's the kind of confusion that has plagued her since the Conservatives lost their majority in last month's election.
While she hasn't altered her stance on pay caps yet, May has been known to change her mind. She was called out during a disastrous campaign for being a "U-turn Queen" after reversing out of unpopular policies, most famously over social care funding for the elderly.
Read more: May's Conservatives Signal Beginning of End to U.K. Austerity?
After seven years of belt-tightening, U.K. voters sent a clear message that they are tired of spending cuts. The politically vulnerable premier cannot entirely ignore it even as she has said her main priority is to get on with Brexit.
The perceived wisdom is that while May can hold on for now, she won't lead Tories in another election. At best she'll see the country through the two-year process of pulling out of the European Union.
A split over the cap has emerged within the cabinet -- many of whom are potential leadership candidates -- with both Foreign Secretary Boris Johnson and Education Secretary Michael Gove on Sunday suggesting it should be relaxed.
Chancellor of the Exchequer Philip Hammond said in a speech on Monday that ministers should "hold our nerve" and not "take our foot off the pedal." He reiterated that he understood people were "weary" of austerity, but many Conservatives favor a change, fearing the issue could propel the popular Corbyn into power if there is another election.
"The right honorable gentleman and I both value public sector workers and our public services," May said in answer to Corbyn's question on whether she'll relax the cap. "The difference is I know we have to pay for them."
Chief Treasury Secretary Liz Truss later suggested the government could find other means to improve living conditions for police, firemen, nurses and teachers, who have been subject to a cap of 1 percent on annual pay rises since 2013.
"We need to look at the wider package that people receive, whether that is support for pension, whether that is additional flexibilities," she told Parliament. "That's something we're looking at right through the public sector because job satisfaction derives from many things."
(
Updates with Corbyn's question in 2nd paragraph.
)
Before it's here, it's on the Bloomberg Terminal.
LEARN MORE