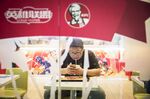 The sudden plunge in Hong Kong's Hang Seng Index on Tuesday shows how nervous markets are about Asia's binge on growth stocks this year. As the earnings season starts, reports from two key blue chips may determine whether the party carries on into the second half or turns into a purge.
The benchmark MSCI Asia ex-Japan Index has returned 18 percent in dollar terms so far this year, its best performance since the second half of 2010. Yum China Holdings Inc., reporting on Thursday, and Samsung Electronics Co., a day later, loom as the next test of whether the consumer and technology themes that have driven the rally remain intact.

Technology shares, which constitute about 30 percent of the MSCI index, have led gains with a 33 percent increase this year. The consumer discretionary sector, which carries a 10 percent weighting, has been the second-biggest driver with a 22 percent advance.
The rally has been by no means even. Energy and materials companies -- which jumped after Donald Trump's November presidential win -- have underperformed the index, with gains of 7 percent and 11 percent respectively.
Investors have reasons to be nervous. Last week saw a volatile end to the first half with material stocks significantly outperforming and investors bailing out of the technology sector after a months-long surge led by the so-called FANG stocks in the U.S. -- Facebook Inc., Apple Inc., Netflix Inc. and Google owner Alphabet Inc. 
Hawkish remarks from Bank of England and European Central Bank officials have sparked concerns that global portfolio flows are rotating back from growth into value stocks again. That skittishness was underscored by a sudden plunge in Hong Kong stocks on Tuesday. 
Has the growth theme been pushed too far? Asia's technology and consumer stocks are by no means cheap, trading at market-weighted averages of 20.6 and 22.3 times forward earnings, according to data compiled by Bloomberg. In the past three months, technology analysts revised up their 2017 earnings estimates by another 5.2 percent: They now see the region delivering 27 percent growth this year.
Samsung, in particular, is forecast to report 69 percent earnings growth for 2017. Because of its heavy weighting, the South Korean maker of smartphones and semiconductors alone accounts for more than 10 percent of the 17 percent growth expected out of MSCI Asia ex-Japan stocks this year. If Samsung misses on Friday, hardware names from semiconductor peer SK Hynix Inc. to Taiwan's technology-heavy Taiex index could come under pressure. 
Yum China is another barometer for the growth bet. The shares have soared 54 percent in New York this year as the fast-food chain, which split from its parent last year, expanded into China's smaller cities.
Strengthening spending and incomes outside of China's main urban centers has been a theme for investors this year, with consumer stocks leading gains on the benchmark CSI 300 Index. Morgan Stanley estimates that the income gap between lower and higher tier cities will narrow to 36 percent by 2030 from 45 percent in 2016 and 55 percent in 2006. China's Gini coefficient, a measure of income inequality, has fallen since 2009. 

Yum China has beaten analysts' earnings estimates in its first two quarters as a separate company. The stock has rallied more than 30 percent since the company posted second-quarter numbers on April 6, suggesting some investors are betting on further positive surprises.
A lot of optimism is built into expectations for growth stocks. Watch for the fallout if they fail to keep up with the trend.
Before it's here, it's on the Bloomberg Terminal.
LEARN MORE