Maine Lawmakers OK Budget Seeking to End Government Shutdown
THE ASSOCIATED PRESS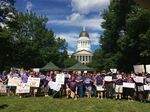 Augusta, Maine (AP) -- The Maine Legislature has approved a budget in a move designed to end a state government shutdown that has stretched into its fourth day.
Votes came early Tuesday after a long day of negotiating Monday. The House of Representatives passed the spending plan 147-2, easily exceeding a needed two-thirds majority. The Senate approved by a count of 35-0.
The spending plan now moves to Republican Gov. Paul LePage for possible signature. LePage has said he'll sign a budget agreement that doesn't raise taxes. The agreement approved by the Legislature removes a plan to increase a state lodging tax.
The government shut down on Saturday morning because of the lack of a budget. State leaders squabbled over education funding, taxes on high earners and the lodging tax.
Before it's here, it's on the Bloomberg Terminal.
LEARN MORE