U.S. Threatens Trade With Countries Over Support for North Korea
By and
Haley demands action at UN after regime's latest missile test

Kim Jong Un calls missile a 'gift' for U.S. Independence Day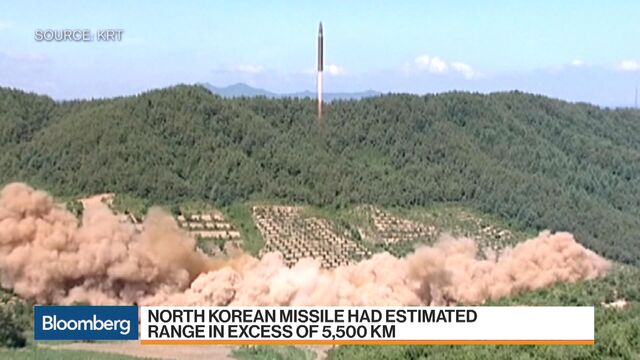 The U.S. threatened trade ties with countries that continue to do business with North Korea following Pyongyang's test of an intercontinental ballistic missile, a warning to China and other nations the administration says aren't doing enough to rein in Kim Jong Un's regime.
"There are countries that are allowing, even encouraging, trade with North Korea in violation of UN Security Council resolutions," U.S. Ambassador to the United Nations Nikki Haley said Wednesday at an emergency meeting of the council. "Such countries would also like to continue their trade arrangements with the United States. That's not going to happen."
Haley said the U.S. will present a resolution in the coming days with a response "proportionate" to the North Korean action. She wouldn't detail its contents but said a unified international community could cut off hard currency, restrict the flow of oil and boost air and maritime restrictions. The administration is willing to "go our own path if other countries didn't join in."

Haley's comments signal a more severe U.S. approach to North Korea's nuclear and missile ambitions days before President Donald Trump and Chinese leader Xi Jinping are due to meet at the Group of 20 summit in Hamburg, Germany. But Trump is also confronting a problem in North Korea that has bedeviled U.S. presidents for decades. Carrying out Haley's threat could rebound badly for the U.S. and China, and by extension the entire world, given the interdependence of the two countries' economies.
Trade between the U.S. and China totaled about $600 billion last year, according to International Monetary Fund data. And while China has long been North Korea's primary trading partner, nations including India, the Philippines, Russia, Thailand and Pakistan also transact trade.
"We will look at any country that chooses to do business with this outlaw regime," she said. "We will not have patience for stalling or talking our way down to a watered-down resolution."

'New Escalation'
Secretary of State Rex Tillerson on Tuesday called North Korea's actions a "new escalation of the threat" to the U.S. and its allies. U.K. Ambassador to the UN Matthew Rycroft said North Korea's actions were "provocative" and threatening to "a great number of countries directly." The French envoy said he would back tightening and strengthening of sanctions.
But while the Security Council prepared to issue a condemnation of the missile test, China and South Korea also called for caution and urged fresh efforts to entice North Korea to talks. That may undermine Haley's prospects for a strong Security Council resolution.
Kim's progress toward acquiring missiles that can carry a nuclear warhead to the U.S. mainland highlighted how efforts to rein him in -- from international sanctions to U.S. and Chinese pressure -- haven't worked. Even so, Tillerson called for "global action" to stop a "global threat."

"Denuclearization is the goal of the UN, while nuclearization is the goal of the North Korea," said Cui Liru, who was a China counselor at the UN. "The UN could issue more sanctions and even put more pressure on Pyongyang with military exercises, but Kim will not give up his goal until the major powers address his security concerns," said Cui, a former president of the China Institute of Contemporary International Relations. 
G-20 Summit
Pentagon spokesman Captain Jeff Davis said the latest missile test was of a version not previously seen and that it had an estimated range in excess of 5,500 kilometers (3,400 miles). It was sent from a mobile launcher, not a fixed site, which can be harder to target.
Labeling the rocket an ICBM reflects a U.S. assessment that North Korea now may be capable of striking U.S. territory -- most likely Alaska -- though it's believed to be some ways from the capability to deliver a nuclear payload to the U.S. mainland. South Korea also said the missile was an ICBM, though it added it couldn't confirm if it was successfully tested.
Kim is "firmly determined and committed" to test an ICBM that can reach the U.S. mainland within this year, the state-run Korean Central News Agency said on Wednesday. It said the ICBM launched on Tuesday was capable of carrying a newly developed, large-sized nuclear warhead, and was tested for re-entry capability.
As Kim bragged about sending more "gifts" to U.S. President Donald Trump, South Korea and the U.S. announced Wednesday they had conducted a joint ballistic-missile drill in waters off the eastern coast of the Korean peninsula.
'More Divided'
"Ultimately, Trump's policy of preventing a North Korean ICBM has failed, and the countries central to resolving the North Korean nuclear issue do not seem to agree on the best way forward," said Andrea Berger, a senior research associate at the Middlebury Institute of International Studies at Monterey, California. "In fact, they are arguably more divided than ever."
The North Korea issue will dominate this week's Group of 20 summit in Germany. Trump has already indicated in recent weeks he believes China isn't doing enough to curtail its neighbor and ally.
"Trade between China and North Korea grew almost 40% in the first quarter. So much for China working with us - but we had to give it a try!" Trump said Wednesday on Twitter. A day earlier on the social-media platform, he said, "Perhaps China will put a heavy move on North Korea and end this nonsense once and for all!"
While China and South Korea favor talks to lower tensions with North Korea, the U.S. insists negotiations can only happen if Kim halts his nuclear program, while Trump has said military action is one option for dealing with the regime.
Read more: What are the options for dealing with North Korea?
Tensions are rising between Trump and Xi over a broad range of issues. In a call with the U.S. president this week, Xi complained about a "negative" turn in ties. The U.S. has in recent days announced a $1.3 billion arms sale to Taiwan, published a report ranking China among the world's worst human-trafficking offenders and called on Beijing to let ailing Noble Peace Prize winner Liu Xiaobo seek cancer treatment abroad.
Australian Prime Minister Malcolm Turnbull called for China to step up pressure on Pyongyang, telling local radio on Wednesday "only China has the ability to bring North Korea to its senses."
"China faces a lot of difficulties in managing North Korea, but the position keeps on getting worse and the Chinese have the greatest leverage -- that's a fact," he said before departing for the G-20 meeting.
"Now the question is how far are they prepared to allow North Korea to go down this road before finally they take the decisive action that they have the ability to take in a way that nobody else does and bring this reckless, dangerous regime to its senses," Turnbull said.
— With assistance by Anthony Capaccio, and Kanga Kong
Before it's here, it's on the Bloomberg Terminal.
LEARN MORE