States Mired in Budget Paralysis Defy Eight-Year Recovery
By
Sluggish revenue, political standoffs put spending on hold

Risks run from credit downgrades to backlash over beach photos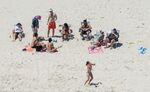 Were it not for Illinois's flirtation with a junk credit downgrade and New Jersey Governor Chris Christie's luxuriating on a closed public beach, the budget woes of U.S. states might have assumed their annual spot in the dust bin of public-policy history.
This year, spending strife is unusually widespread, with 11 states missing their July 1 fiscal-year deadlines. The accompanying theatrics make for hot conversation material even during a holiday weekend.
In a poor economy, states often freeze spending while lawmakers and the chief executive work out how to plug budget holes. This year's standoffs, though, come amid record stock-market gains and low national unemployment. Some disagreements even split members of the same party: Delaware, with a Democratic governor and legislature, finally struck an agreement two days late; Wisconsin, led entirely by Republicans, was hung up on transportation and school funding.
"We're in the eighth year of recovery from the Great Recession," said Arturo Perez, the fiscal affairs program director for the National Conference of State Legislatures, a Denver-based bipartisan group that studies and lobbies for state governments, who took a break from vacation to talk by telephone. "This is somewhat unprecedented."
In New Jersey, where the governor and lawmakers reportedly reached a deal Monday night, the trouble wasn't the proposed $35.5 billion budget itself. It was other legislation that Christie insisted on before he would sign a spending plan. In Maine, a government shutdown began July 1 when Republican Governor Paul LePage said no to tax increases. Illinois' deadlock was a repeat of its past two years -- though this time featured the added risk of a sub-investment-grade credit rating, a first for a U.S. state.
By constitution, New Jersey couldn't operate without a spending plan, and Christie ordered all but essential services shut down when his proposal didn't make it to his desk. Two days later, the story went from bureaucratic headache to internet sensation when the news site NJ.com photographed Christie and his family waterside at Island Beach State Park, where the state maintains a residence for the governor.
Critics and would-be visitors, turned away while the park's staff was on furlough, lashed out on social media. Christie, who last week told reporters that he would head to the retreat while lawmakers negotiated, told Fox News on July 3 that the media "had caught a politician keeping his word."
Other states that missed deadlines were Connecticut, Massachusetts, Oregon and Rhode Island, according to the legislatures group. Michigan and Pennsylvania lawmakers approved their bills, but the governors hadn't signed. Those outstanding July 1 defied the expectations of S&P Global Ratings, which June 22 counted 16 states without spending plans, but expected most to make deadline. Slow revenue growth, higher spending and political disagreements were just part of the story, S&P said.
"In a late-budget situation, risks to a state's ability to fund its debt service payments often stem from legal and technical constraints more than from an underlying lack of fiscal capacity," credit analyst Sussan Corson wrote.
Even if all the states sew up their fiscal 2018 budgets within days, future federal spending priorities under Republican President Donald J. Trump sow more uncertainty. A U.S. Senate health bill called the Better Care and Reconciliation Act would reduce federal funding and increase insurance rates, a negative for states and hospitals, according to a June 26 report by Fitch Ratings.
John Hicks, executive director of the Washington-based National Association of State Budget Officers, said there's no evidence to suggest a coming increase in the number of states blowing deadlines. Still, he said, the pressure is mounting as state tax revenue generally has recovered more slowly from the most recent recession than from earlier downturns, personal income-tax revenue growth is lackluster, "and spending cuts don't fill the gap."
"This is a surprisingly tough fiscal time for states," Hicks said.
— With assistance by Elizabeth Campbell
Before it's here, it's on the Bloomberg Terminal.
LEARN MORE