Qatar Outlook Lowered to Negative by Moody's
By and
Nation's rating affirmed, fourth highest investment grade

Moody's says diplomatic dispute a risk to credit fundamentals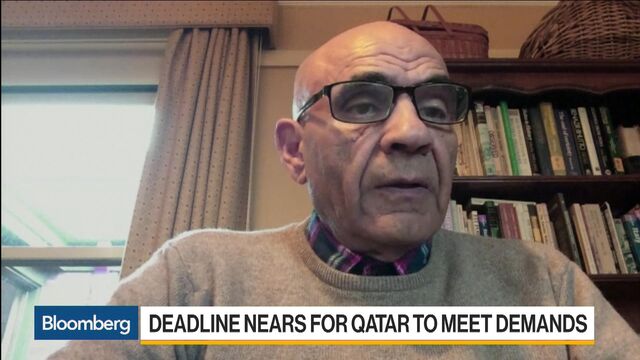 Qatar's credit outlook was cut to negative by Moody's Investors Service, which cited economic and financial risks from an ongoing diplomatic spat between the OPEC nation and its Arab neighbors.
The ratings firm lowered the nation's outlook from stable on concern a quick resolution of the dispute is unlikely, but kept its long-term issuer rating at Aa3, according to a statement. Barring a "swift resolution," economic activity will likely be thwarted after countries including Saudi Arabia and United Arab Emirates cut air, land and sea links with Qatar, Moody's said.
"The likelihood of a prolonged period of uncertainty extending into 2018 has increased and a quick resolution of the dispute is unlikely over the next few months, which carries the risk that Qatar's sovereign credit fundamentals could be negatively affected," Moody's said.
Read More: Germany Sees Saudi-led Bloc Rejecting Qatar's Gulf Crisis Reply
Trade restrictions imposed by the Saudi-led coalition has put pressure on Qatar's assets and finances. The group, which accuse the Gulf state of financing terrorists, has asked it to comply with a list of 13 demands by July 5 to end the crisis. But even before the dispute began in early June, Moody's cut Qatar's rating by one level, citing uncertainty over the country's economic growth model.
S&P Global Ratings last month lowered Qatar's long-term grade by one level and put it on negative watch. Less than a week later, Fitch Ratings said it was also considering a cut.
Foreign ministers of the Saudi-led group will meet on Wednesday in Cairo to discuss the latest developments.
"Everybody is hoping for the best, but things don't look like they are moving in the right direction," Mohammed Ali Yasin, chief executive officer of NBAD Securities CEO, said in an interview with Bloomberg Markets Middle East.
Before it's here, it's on the Bloomberg Terminal.
LEARN MORE