Qatar Bond Dip Draws Investment-Grade Yield Seekers Amid Row
By and
Bonds down 3% since start of Gulf standoff, double peers' loss

Investors bet $335 billion wealth fund will help weather storm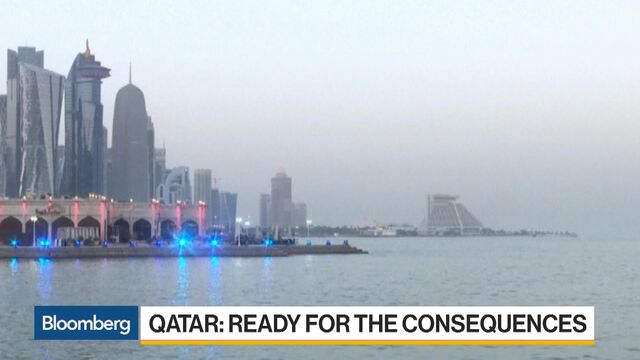 Some investors are finding value again in Qatar's international debt following a four-week selloff as a deadline in the standoff between the world's biggest natural-gas exporter and its Gulf neighbors looms.
The nation's bonds maturing in two to 29 years have fallen 3 percent on average since June 5, when a Saudi Arabian-led coalition froze political ties and imposed trade limits amid allegations Doha bankrolls terrorists. That's more than double the drop for the Bloomberg U.S. Dollar Emerging-Market Sovereign Bond Index, raising the appeal of the investment-grade securities.

"Fundamentally, it's still a strong credit" and can withstand the pressure, said Sergey Dergachev, who helps oversee about $14 billion in assets as a senior money manager at Union Investment Privatfonds GmbH in Frankfurt. Even if Qatar were cut from an AA rating to A+ or A, it "still looks juicy versus other emerging-market sovereigns in this rating bucket," he said.
Qatar has until Wednesday to agree to a list of 13 demands by Saudi Arabia, the United Arab Emirates, Bahrain and Egypt, which include rolling back ties with Iran and expelling Muslim Brotherhood members. While Qatar has shown no sign of bowing, international bond investors are betting the nation's $335 billion wealth fund gives it the cash to ride out the isolation.
The nation's dollar-denominated bonds due in 2026 yielded 136 basis points more than similar-maturity U.S. Treasuries on Wednesday, up from 101 basis points before the imposition of the boycott.
The yield on the debt added two basis points to 3.68 percent as of 11:34 a.m. in Doha, the highest in six months, after Moody's Investors Service cut Qatar's outlook credit outlook to negative on July 4. A quick resolution to the dispute as "unlikely over the next few months, which carries the risk that Qatar's sovereign credit fundamentals could be negatively affected," it said.
Foreign ministers from the four nations isolating Qatar are scheduled to meet in Cairo Wednesday to discuss the next steps as their deadline expires.
Some investors are buying protection on their holdings or placing bearish bets on Qatar's future. Credit-default swaps insuring the country's bonds against losses surged to the highest in more than a year on June 29 at 123 basis points, according to data from CMA. The contracts recovered slightly to 114 basis points on Tuesday, the data show.
The amount at stake has also increased. Outstanding credit protection on Qatar rose 58 percent over four weeks to cover a net $2 billion of the nation's debt on June 30, according to data from Depository Trust & Clearing Corp.
The increase in Qatar's bond spreads shouldn't be ignored because it's "statistically significant compared to the two-year historical average," said Simon Quijano-Evans,  an emerging-market strategist at London-based Legal & General Investment Management Ltd. "If the tension in the region fails to de-escalate, it seems quite clear that it will spill over into asset prices of other countries in the region, as foreign investors gradually re-assess their exposure."
Before it's here, it's on the Bloomberg Terminal.
LEARN MORE