Your Evening Briefing
Bloomberg News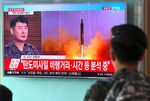 The evening briefing will soon be available in your inbox every day. To be among the first to get it, sign up here.
All eyes are once again on North Korea after the isolated state test-fired what it claimed was a new intercontinental ballistic missile capable of reaching "anywhere in the world". If the claim proves to be true, it brings the country a step closer to its aim of building a device capable of hitting continental U.S. with a nuclear warhead. The test took place amid renewed tensions between China and the U.S. over how best to rein in Kim Jong Un. Donald Trump says China has not done enough to curtail its neighbor, while Xi Jinping complained there had been a "negative" turn in Beijing's relationship with Washington. The latest developments will certainly make for some interesting conversation when the two leaders meet in Germany later in the week.
How a bankrupt fishmonger became became a  billionaire. Daiso Sangyo founder Hirotake Yano's path to riches was anything but direct. After graduating, he drifted through a series of jobs that included running his father-in-law's fishery until it went bankrupt and hawking goods from the back of a truck. Then in the 1970s he came up with the idea of charging a single price, 100 yen, for his goods and set up Daiso.  He's now worth $1.9 billion.
Are Airbus A380s bound for the junkyard? The double-decker planes face the ignominy of being broken up for spare parts (worth at least $100 million per plane) if second-hand operators for the oldest jets can't be found in coming months. Four Singapore Airlines A380s will be the first to be returned between October and June, following the expiry of 10-year lease deals. 
This stock has soared over 200 percent, and it has your beloved cats and dogs to thank. Booming sales of premium pet food has made Asian Seafoods Coldstorage the best performing stock in Thailand this year, with revenue on course to reach 14.5 billion baht ($427 million) in 2020 from 9.2 billion baht last year. The company is pouncing on the demand for gourmet offerings containing natural ingredients as people mirror their pets'dietary habits to those of humans.
Europeans are drinking themselves to death. The region consumes more alcohol than people on any other continent, an average of 11.2 liters per year — the equivalent of just under two drinks a day — a new report has found. Americans drink 8.4 liters of alcohol each year on average, while Southeast Asians down 3.5 liters. Nearly one in every four deaths from gastrointestinal diseases can be attributed to alcohol intake, according to the World Health Organization.
A 'huge buy signal' for Japanese equities has emerged following Prime Minister Shinzo Abe's election defeat in Tokyo last weekend, according to Ed Rogers, head of Rogers Investment Advisors. The result of the Tokyo assembly elections is a "wake-up call" for Abe to go back to economic reform instead of pursuing constitutional change, he said.
Jaguar's latest supercar is also its fastest yet. Inside the company, they call their latest $198,000 supercar a "crazy idea." But the concept is simple and as old as racing itself: Take the lightest body possible and match it with the most powerful V8 engine available. What you get is the Project 8, a 592-horsepower four-door sedan that can top 200 miles per hour.

Before it's here, it's on the Bloomberg Terminal.
LEARN MORE