Australia Holds Key Rate to See If Hiring Burst Augurs Wage Rise
By
Unemployment has fallen to 5.5% from 5.9% amid surge in jobs

Stronger Aussie dollar erodes some benefit of record-low rate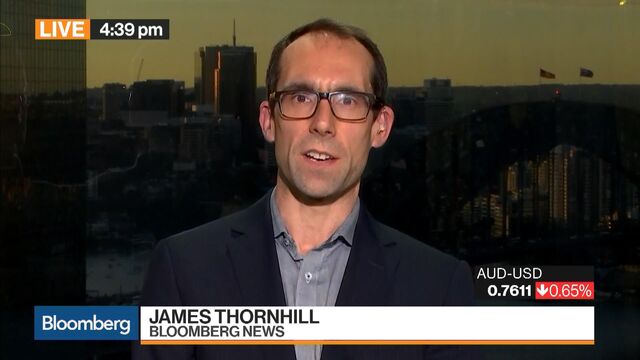 Australia's central bank kept its benchmark interest rate unchanged Tuesday as it waits to see if wages will respond to a burst of hiring. The currency and bond yields fell.
Governor Philip Lowe and his board held the cash rate at 1.5 percent as expected by markets and all 29 economists surveyed by Bloomberg. While economic growth decelerated in the first three months of the year, business conditions -- a measure of hiring, sales and profit -- remain strong and unemployment fell to 5.5 percent in May from 5.9 percent in March.
"The Australian economy is expected to strengthen gradually, with the transition to lower levels of mining investment following the mining investment boom almost complete," Lowe said in a statement accompanying the decision. "At the same time, consumption growth remains subdued, reflecting slow growth in real wages and high levels of household debt."
Australia, like a number of developed world counterparts, is struggling to generate inflation, and now faces renewed strength in the currency that could erode some of the benefits of record-low rates. The Reserve Bank of Australia has used easy policy to cushion the economy from falling mining investment and paused since August to avoid further inflaming Sydney and Melbourne property prices, which have doubled since 2009.
The Aussie dollar fell to 76.25 U.S. cents at 2:46 p.m. in Sydney, from 76.80 cents just before the announcement. Three-year government bond yields dropped five basis points to 1.97 percent, heading for their biggest decline since March.

"Housing prices have been rising briskly in some markets, although there are some signs that these conditions are starting to ease," Lowe said. "Growth in housing debt has outpaced the slow growth in household incomes. The recent supervisory measures should help address the risks associated with high and rising levels of household indebtedness."
The central bank has supported regulators' moves to strengthen lending standards and discourage use of interest-only loans by owner-occupiers and investors who have poured cash into the property market. 
While Sydney and Melbourne prices climbed 2.2 percent and 2.7 percent respectively in June, they cooled in the quarter as a whole as the curbs took hold. Building permits fell more than four times as much as economists' forecasts in May, amid signs a residential construction boom could be approaching, or even past, its peak.
The RBA is forecasting gross domestic product growth will accelerate to 3 percent -- faster than the economy's estimated speed limit of 2.75 percent -- as the drag from mining comes to an end and natural gas exports ramp up. Australia has posted six consecutive trade surpluses -- including a record -- as higher iron ore and coal prices boosted the nation's export take.
The central bank also expects annual inflation to return to the mid-point of its 2 percent to 3 percent target by the end of the forecast period, assuming wage growth gradually increases. The core measures it monitors have both been below 2 percent for five-straight quarters.
"Indicators of the labor market remain mixed," Lowe said. "Employment growth has been stronger over recent months. The various forward-looking indicators point to continued growth in employment over the period ahead. Wage growth remains low, however, and this is likely to continue for a while yet. Inflation is expected to increase gradually as the economy strengthens."
Rate Hikes
Former RBA board member John Edwards said last week that the central bank could raise rates eight times in the next two years to 3.5 percent. Hawks have also been emboldened by talk in Europe and elsewhere that policy could be about to take a turn to tightening, particularly in Canada, which shares some of the same traits of Australia's economy.
Pessimists in Australia point out that while it hasn't yet reached full employment, estimated at about 5 percent, countries like the U.S., Japan and Germany are already at or below their own levels and are still failing to see faster wage growth. 
They also point out that, between slim pay packets and Australia's record household debt, as well as people putting aside less in savings in order to make ends meet, the country could face a consumption crunch. That would hurt growth -- given household spending accounts for more than 50 percent of GDP -- and is the reason some economists believe additional rate cuts will still be necessary.
"Taking account of the available information, the board judged that holding the stance of monetary policy unchanged at this meeting would be consistent with sustainable growth in the economy and achieving the inflation target over time," Lowe said in the concluding paragraph of the statement.
Before it's here, it's on the Bloomberg Terminal.
LEARN MORE