Sports Direct's Ashley Fights Ex-Banker Over Unpaid Bonus
By and
Mike Ashley sued by Jeffrey Blue over verbal promise of bonus

Lawyers say owner held pub-based meetings fueled by alcohol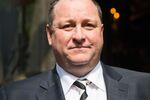 Mike Ashley, the billionaire owner of Sports Direct, is fighting a former executive over the promise of a 15 million-pound ($19.5 million) bonus that the tycoon's attorney dismisses as part of the regular banter at the boozy business meetings he would hold in pubs.
Jeffrey Blue, an ex-Merrill Lynch investment banker who worked for Ashley, is alleging in a London lawsuit that his boss reneged on a pledge made in a London bar in early 2013 that he would get the payment if he doubled the retailer's share price. Those "alcohol-fueled" conversations were never intended to be taken seriously, according to Ashley's case.
The court case is an unwelcome distraction for Ashley, who built Sports Direct from one shop to the U.K.'s biggest sportswear retailer. He's trying to resurrect growth at the company after a dismal 18 months. Since a December 2015 undercover newspaper investigation exposed management issues at its warehouse, Sports Direct's share price has dropped about 60 percent. 
"Mr. Ashley is an unorthodox but successful businessman of whom Mr. Blue has substantial experience," Jeffery Chapman, Blue's attorney, said. "Sports Direct senior management meetings often took place in bars where considerable volumes of alcohol were consumed while Mr. Ashley made business decisions. The court must decide whether this was just a night in the pub or an important business meeting."
The case, scheduled to last more than a week, is likely to shine a light on the management style at one of U.K's largest retailers, and is likely to provide clarity on the legal weight of oral agreements in business.
Bank of America Merrill Lynch resigned as Sports Direct's corporate broker in the autumn of 2012 because of reservations over the company's corporate governance, Blue said in his witness statement. BofA was concerned that the company's decision to fund a share buyback for the benefit of its employee-share scheme breached regulations governing the price and volumes permitted for such transactions, Blue said.
The Financial Conduct Authority opened an investigation into the share buyback, Blue said. An FCA spokesperson declined to comment. A BofA spokesperson declined to immediately comment. 
The January pub meeting was set up to discuss the role of corporate broker with Banco Espirito Santo SA, which was represented by two executives. Ashley, who also owns Newscastle United soccer team, attended the meeting alongside Blue, and a third member of the Sports Direct management team.
During the meeting, Ashley took "a number of phone calls in relation to potential player transfers," Blue said in his witness statement. "Notwithstanding the venue and the consumption of alcohol, I note that Mr. Ashley was able during the evening to conduct other business, including making decisions in regards to player transfers on behalf of Newcastle United."
At an early stage in the evening, Ashley began discussing how to "incentivize" Blue and initially suggested 10 million pounds if he could get the stock to 8 pounds a share in three years, according to Blue's statement. One of the Espirito Santo executives suggested the figure should be 20 million pounds, Blue said in his statement.
Split the Difference
According to Blue, Ashley responded, "now that's more like it. But I'll tell you what, let's split the difference and call it 15 million pounds if the stock gets to 8 pounds per share in the next three years."
Ashley, who will give evidence on Wednesday, will say the conversations were never intended to be taken seriously, according to his lawyer.
"The nature of those conversations were about incentivization and football players, they were clearly banter and clearly never serious," Ashley's lawyer, David Cavender, said. "It was a social/work meeting in a pub where new potential brokers were going to meet Mike Ashley."
Business Culture
Some of Ashley's business practices fly in the face of business orthodoxy, Blue's lawyers said. The former executive refers to Ashley lying underneath tables in meetings that he found boring to "take a nap," using games to resolve who ought to pay Merrill Lynch's legal fees -- about 750,000 pounds -- from the retailer's initial public offering and lavishly entertaining Sports Direct's non-executive directors.
Blue alleges that one management meeting he attended in a pub involved Ashley challenging a young analyst on Blue's team to a drinking game that ended after each man downed about a dozen pints of beer followed by vodka chasers. The analyst quit the contest, and Ashley vomited into the pub fireplace, Blue said.
After the exposure of the situation in Sports Direct's warehouse, Ashley was admonished by lawmakers for presiding over "appalling" working conditions. The company's chief executive officer and chief financial officer departed amid several profit warnings, two of which were related to the company's failure to hedge its currency exposure before Britain voted to leave the European Union.
In the U.K., Ashley is seeking to re-position the company -- known for low prices in massive stores -- as the "Selfridges of sports retail," comparing it to one of London's most illustrious department stores. The majority owner has also set his sights on growth in the U.S. with the purchase of 50 stores earlier this year.
Before it's here, it's on the Bloomberg Terminal.
LEARN MORE