Paschi Rescue Said Set to Gain Final EU Approval This Week
By , , and
EU approval would pave way for precautionary recapitalization

Paschi, Veneto banks solution seen key to lowering Italy risk
The state-backed rescue of Banca Monte dei Paschi di Siena SpA may be approved by the European Commission as soon as today, completing a six-month review of the restructuring of the world's oldest bank, according to people familiar with the matter.
EU approval would pave the way for a precautionary recapitalization of the lender, making it the third Italian bank to obtain state aid this year. Last month, European authorities and Italian officials reached an agreement in principle on a rescue plan that may include a capital increase of about 8.3 billion euros ($9.4 billion) and the sale of about 26 billion euros of bad loans through a securitization, said the people, who asked not to be identified because the talks are private.
Monte Paschi was forced to seek state aid after it failed to raise extra capital from investors in December. Last week, the government agreed to provide as much as 17 billion euros to liquidate two banks in the northern region of Veneto, Banca Popolare di Vicenza SpA and Veneto Banca SpA. The country's second-largest lender, Intesa Sanpaolo SpA, will buy good assets from the two banks for 1 euro.
The restructuring of Monte Paschi and liquidation of the two regional lenders are key steps to resolving the country's largest banking risks, some analysts said. "Italian banks are addressing legacy problems," Alvaro Serrano and Antonio Reale, analysts at Morgan Stanley, wrote in a note June 26. "With Monte Paschi's precautionary recap due to be approved and up to 17 billion euros available for Veneto and Vicenza, we believe material steps to reduce systemic risk are being taken in Italy."
Italy is struggling to fix a crisis legacy of about 313 billion euros of soured loans in its banks' balance sheets that is holding back credit and weighing on the country's weak recovery. The government approved a law last year to plow as much as 20 billion euros into troubled lenders as part of its efforts to revamp its banking industry and break a slump in lending.
State Investor
The ECB said in December that Monte Paschi needed to secure 8.8 billion euros to bolster its balance sheet. The amount was slightly reduced during subsequent talks with authorities, the people said. Most of the bank's recapitalization will be financed by Italy, which will became the bank's main shareholder, while the remainder will be spread among shareholders and junior bondholders. Monte Paschi and the EU Commission representatives declined to comment.
Monte Paschi, undermined by derivatives deals that backfired and souring loans, has received 4 billion euros in taxpayer-funded bailouts -- which it has repaid -- and 8 billion euros from investors since 2009. The lender needs more capital to help cover the expected losses from selling non-performing loans on its books. Monte Paschi lost 87 percent of its market value in 2016 before the shares were suspended on Dec. 23.
The bank's turnaround plan will detail how it will cut costs, curb risks and use state funds to return to profitability. The planned bad debt sale is seen as central to rousing the company from zombie status, getting it lending again and ensuring that it doesn't come back for more money in a few years' time.
Monte Paschi will sell most of its bad loans through securitization, people with knowledge of the plan have said. While the lender will ask for a state guarantee on the senior tranche before it's marketed, the riskiest portion will be sold to the Atlante 2 fund, according to the people. Monte Paschi's common equity Tier 1 ratio, the main measure of financial strength, fell to 6.5 percent at the end of March, bringing the bank closer to the minimum of 4.5 percent required under EU capital rules.
"Doing something with NPLs is a start," said Mark Hallerberg, professor of public management and political economy at the Hertie School of Governance in Berlin. "Zombie banks are part of the problem with growth. You need to have some dynamic capital markets again, so that's a good way to get going." Failure to do so is "throwing good money after bad," he said.
Recovery Road
According to Finance Minister Pier Carlo Padoan, with the Veneto banks sold and Monte Paschi's revival in sight, Italy's lenders are on the road to recovery and no more last-minute interventions by the state will be required.
The country's banking system is now at a "turning point in the progressive elimination of non-performing loans," Padoan said in an interview with Bloomberg Television on June 26.
Shares of Italian banks have outperformed the European industry since the liquidation plan for the Veneto banks was approved by the Italian cabinet June 25. The FTSE Italia All-Share Banks Index has gained 8 percent since then, compared with a 5 percent increase of the STOXX Europe 600 Banks Price EUR.
The orderly liquidation of two Veneto-based banks and a deal in progress to recapitalize Monte Paschi "will remove the dark clouds hanging over the horizon of the Italian banking sector," Giovanni Sabatini, head of the Italian Banking Association, said in an interview on Bloomberg Television Monday.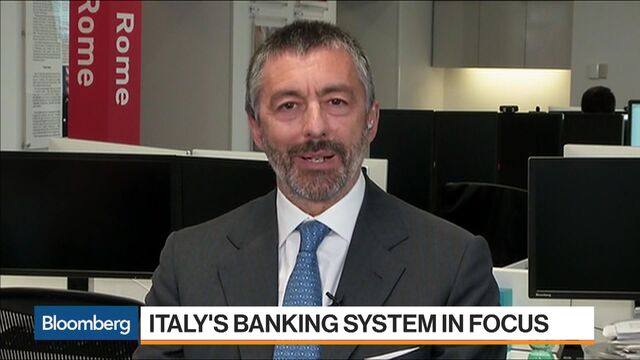 Still, Italy's efforts to avoid using the EU's bank resolution framework to deal with the troubled Veneto banks has been criticized because the solution seemed to flout the spirit of the rules.
"One might ask, why is national insolvency law more favorable for the owners and creditors than if the resolution is done according to the rules of the European resolution authority," German Finance Minister Wolfgang Schaeuble said on June 28.
— With assistance by Aoife White, Boris Groendahl, and Flavia Rotondi
Quotes from this Article
Before it's here, it's on the Bloomberg Terminal.
LEARN MORE