markets
M&A Issuance Back in Reckoning as European Loan Repricings Ease
By
Busy start to 3Q expected after more balanced loan flow in 2Q

Strong leveraged-loan demand pushes spreads to two-year low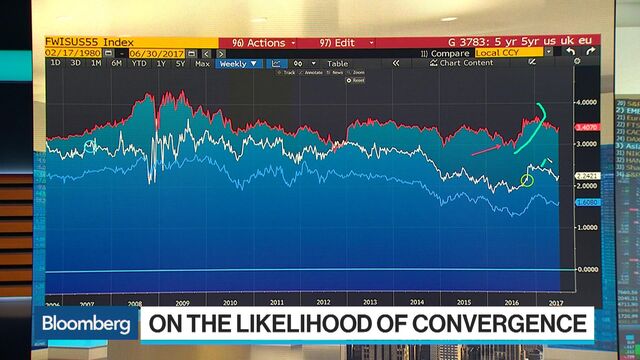 M&A-linked leveraged loans in Europe regained profile last quarter. Borrowers brought a more even mix of new-money deals and repricings in the second quarter after swamping the market with requests to cut the cost of funding in the early months of the year, Bloomberg strategist Ruth McGavin writes.
Despite this more balanced flow of issuance, returns came under pressure as demand continued to outpace supply, and the spread above Euribor fell to the tightest level in more than two years.
NOTE: Bloomberg's 2Q17 European Leveraged Finance Chart Book is attached in PDF and Excel, showing all the key trends of the year

Companies raised 11.8 billion euros ($13.4 billion) of new money from institutional investors, backing mergers and acquisitions, dividends payments and other purposes, during the second quarter. This fell just shy of the figure in the preceding three months. But at the same time, repricing requests halved, lessening the pain of fund managers facing erosion of returns in their existing portfolios.
Beating 2016
Setting aside repricings, activity so far this year in European loans puts the institutional market on track to beat 2016. At 33.6 billion euros in the first half of the year, the European market has already raised more than 64 percent of last year's total.

Arrangers expect a busy start to the third quarter although the summer pipeline will be thinner than expected earlier. That's so because an EU1.95b loan backing Stada Arzneimittel AG's buyout by private equity firms Bain Capital and Cinven hasn't materialized after the collapse of the takeover attempt.
Beyond that, there is a busy pipeline of auctions and pitching, with sponsors working on platform acquisitions as well as buyouts, but converting these into live deals remains fraught with obstacles, as Stada proved.
Not Cool
It is M&A issuance that fund managers crave the most. Even though the pace of issuance ramped up in June and grabbed more of investors' attention, second-quarter volume was steady rather than strong, at 8.4 billion euros. Supply fell far short of demand from the CLO managers, who raised six billion euros from 15 new vehicles in the second quarter, and from the many other funds hunting for yield. 
There had been a brief correction at the end of March, but the market did not keep its cool for long: secondary prices recovered rapidly, primary pricing fell to its lowest level in at least two years, and some issuers flexed terms tighter as lenders piled in.

But as feverish demand for assets translated into increasingly highly-levered and aggressively-structured deals, investors did show some signs of discipline. 
Not only was there a difference of 100-150 basis points between the pricing available to the most and least favored credits, some borrowers also had to bow to investors' demands for better terms.

The share of deals flexed wider in the second quarter of this year was the highest since the volatile first quarter of 2016. Lenders also won some concessions on documentation for deals including Kloeckner Pentaplast GMBH and IPH/Brammer in late June, on points such as transferability, incremental debt and mandatory prepayments.
Real Change
If the market is as busy as some arrangers anticipate during July, investors might have a chance to convert isolated incidences of pushback into a distinct trend that sees sponsors quietly retreat from their most borrower-friendly terms during the third quarter.
This could allow a "soft-landing" after more than a year of steadily heating market conditions.
Another cooling influence might come from a weaker U.S. loan market that tempts some non-CLO money away from European loans or at least slows the pace of inflows.
But market players agree that a fundamental change in the supply-demand dynamics would need to be driven either by a strong pick-up in M&A activity or by an external shock that unseats the bid.
The former is difficult to see while equity valuations remain so high and while loans are more or less maxed out on leverage - especially given that European and U.S. regulators are watching. The latter, the unknowable shock, might reveal how much of Europe's unquantified non-CLO money is in the market for the long-term.

— With assistance by Fara Babaev
(
Ruth McGavin is a leveraged-finance strategist who writes for Bloomberg. The observations she makes are her own and are not intended as investment advice.
)
Before it's here, it's on the Bloomberg Terminal.
LEARN MORE