Japan's Aso Expands His Base After LDP Loss in Tokyo Election
By and
Finance Minister Aso pledges support to Prime Minister Abe

Aso will now control second-largest faction in ruling party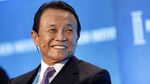 Japanese Finance Minister Taro Aso announced a merger of party factions that will give him control of the ruling Liberal Democratic Party's second-largest group, behind the one led by Prime Minister Shinzo Abe.
Aso, who also serves as deputy prime minister, pledged his continued support for Abe, just a day after the LDP suffered a bruising defeat in a Tokyo assembly election that has presented Abe with one of his biggest tests since taking office in late 2012.
"We think that strongly supporting the Abe administration is connected to the public good," Aso told reporters in Tokyo.
The new faction counts 60 lawmakers as members, while Abe's group boasts 96 members. Aso's expanded faction is expected to increase his influence in the administration, although the degree to which he'll be able to shape major policies is unclear. He was previously among the last of Abe's ministers to support the decision to delay an increase in the consumption tax until 2019.
In Sunday's vote, the LDP secured only 23 of the assembly's 127 seats, its lowest number ever, while Tokyo Governor Yuriko Koike's Tomin First (Tokyo Residents First) party won 49 spots, up from six beforehand. 
The defeat could signal trouble for the LDP in a national election due by the end of next year and will likely embolden Abe's critics both within and outside of his party, following a series of scandals that has eroded Abe's public support.
Read more: Tarnished Abe Plunged Into Crisis After Tokyo Election Loss
In 2009, a big loss for the LDP in Tokyo preceded a landslide general election defeat months later. Sunday's loss also raises the chances that Abe will face a challenge when the LDP holds a leadership contest scheduled for next autumn.
"At times like this we must pull ourselves together and reflect on the things that should be reflected on, then move ahead carefully but decisively," Abe said Monday in remarks carried on NHK.
Before it's here, it's on the Bloomberg Terminal.
LEARN MORE