Hammond Says U.K. Must Hold Nerve Amid Calls to Drop Pay Cap
By and
Hurd said public sector pay cap is under 'active discussion'

Election fiasco prompted May's Tories to rethink policies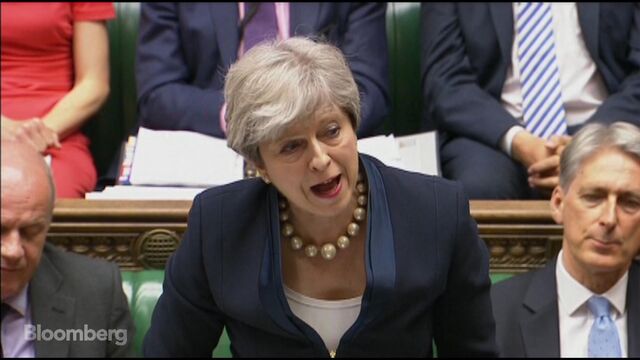 Chancellor of the Exchequer Philip Hammond said Britain must "hold our nerve" and keep public spending under control even as members of the U.K. Conservative-led government continued to signal austerity politics may be coming to end.
Hours after a minister told Parliament that a long-standing and unpopular pay freeze on public jobs is "under active discussion," Hammond told an audience of business chiefs at a Confederation of British Industry dinner the government policy on public sector pay hadn't changed. Both Foreign Secretary Boris Johnson and Environment Secretary Michael Gove have hinted they would favor an easing of the 1 percent cap.
Pressure on the chancellor to ease public-sector pay restraint is mounting amid a growing rift within the Conservative Party about austerity. Stung by losing their majority in last month's election as the anti-austerity Labour Party advanced, Prime Minister Theresa May is under pressure to abandon seven years of belt-tightening as tragedies such as the Grenfell Towers fire and London terror attacks drew attention to cuts in vital services.
Hammond told the gathering that while he accepted the public was "weary" of austerity, the government's policy on public sector pay had not changed, and still sought to strike the right balance "between being fair to our public servants, and fair to those who pay for them."
"It would be easy to take our foot off the pedal," he said. "But instead we must hold our nerve," adding any debate about funding public services must be "grown-up."
Police, firemen, nurses and teachers have been subject to a cap of 1 percent on annual pay rises since 2013, with the government until now vowing to maintain it in order to bring down the deficit. That stance is becoming increasingly untenable with voters enthused by Labour Leader Jeremy Corbyn's promise of free university tuition and billions on the National Health Service.
"We want to make sure that front-line public service workers including the police are paid fairly for their work, not least because of the contribution that they have made over the years to reducing the deficit that we have inherited, Police and Fire Minister Nick Hurd told lawmakers on Monday.
Hurd's comments point to the Tories edging away from the cost-cutting policies that have characterized their government since 2010, when they came to power with David Cameron and his chancellor of the exchequer, George Osborne.
Britons feeling alienated and impoverished by austerity came to eclipse Brexit in an election campaign that delivered May a rude political awakening just as she was about to embarked on divorce talks from the European Union.
Caving in?
Keeping the economy ticking and caving to public appetite for more largesse will be instrumental in how long May is able to stay in power and also reveal her negotiating strength. She needs to keep voters on side, her various party factions appeased and project strength to her Brexit counterparts in Brussels.
The Institute for Fiscal Studies estimates that if public sector pay rose at the same rate as the private sector, the government would need to find an extra 6.3 billion pounds ($8.2 billion) in two years time.
While Hammond acknowledged people are "weary" of austerity he has also noted increased investment in public services would mean higher taxes, more borrowing or stronger economic growth. A debt the equivalent to about 90 percent of gross domestic product is one reason to maintain prudence.
Financial constraints aside, May and her ministers have shifted gears after the election fiasco.
Johnson -- touted as a future Tory leader down the line -- strongly believes pay rises greater than 1 percent can be made responsibly, without putting too much pressure on public finances, the BBC reported on Monday. Gove, who ran for May's job, also hinted to the Sunday Times he is in favor of easing up.
Earlier on Monday, May's spokesman, James Slack, told reporters that the pay of public sector workers was reviewed by pay review bodies, and the government would respond when those groups made recommendations.
"Some have reported and we've accepted the findings, others will respond in due course," he said, adding that nurses, doctors, dentists and armed forces had agreed to a 1-percent pay rise for the 2017-18 tax year.
— With assistance by Thomas Penny, and Charlotte Ryan
Before it's here, it's on the Bloomberg Terminal.
LEARN MORE