politics
Elected Amid Unrest, Burundi Leader Urges Funding for 2020 Vote
By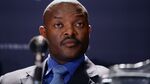 Burundi President Pierre Nkurunziza, whose 2015 re-election came amid a wave of unrest, called on the East African nation's people to help fund the 2020 vote, about two weeks after a spokesman said he may run again if there's popular demand.
Nkurunziza urged citizens to submit money to an account at the central bank, during a speech on national TV late Sunday. He didn't say how much was needed, nor whether he would be among the candidates.
Burundi has been roiled by violence that's left hundreds of people dead and forced more than 400,000 to flee their homes since April 2015, when Nkurunziza said he was seeking a third term. Opposition parties said his re-election violated a two-term limit set out in peace accords that ended a civil war. Supporters argued his first term didn't count as he was chosen by parliament rather than popular vote.
Nkurunziza in May appointed a team to consider amending Burundi's constitution, while a government-appointed committee last year said parts of the country backed the removal of presidential term limits. His spokesman, Jean Claude Karegwa Ndenzako, said June 16 on national radio that if Burundi's people wanted the president to continue to lead, he wouldn't disobey them.
Burundi announced a similar fund-raising campaign for the 2015 election after international partners withdrew support.
Before it's here, it's on the Bloomberg Terminal.
LEARN MORE