business
El-Erian Says Bet on Emerging Markets Due to Better Valuations
By and
He warns investors of liquidity-driven assets, crowded trades

Economist cautions against energy bets amid structural change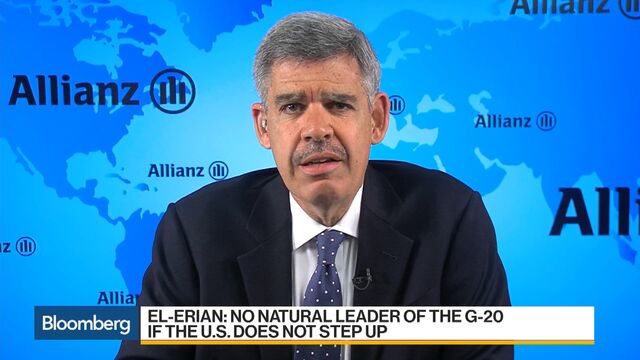 Mohamed El-Erian, Allianz SE's chief economic adviser, said emerging markets are a smart bet while investors should be wary of equities in developed markets.
"Emerging markets still have a significant valuation advantage but you should be prepared for a lot more volatility," El-Erian said Monday in a Bloomberg Television interview. "A principle that investors may want to think about is put fewer dollars at risk in investing in equity markets, but apply them increasingly to sectors that have lagged and EM is a standout in that context."
El-Erian's bullishness on emerging markets echoes comments in March when he said that investors with long time horizons can benefit from disruption caused by tourist speculators in those regions. He warned Monday that liquidity has become the main driver of markets globally, which has led to crowded trades and a disconnect between company fundamentals and their stocks.
"Liquidity can take you higher for a while. But what investors need over the long-term is validation," said El-Erian, who is a Bloomberg View columnist. "And where does that validation come from? Economic and corporate fundamentals."
El-Erian also cautioned about betting on energy credits. The market is facing a lot of structural changes, and it tends to be driven more by technicals and liquidity rather than fundamentals, he said.
That's put pressure on banks including Morgan Stanley, which have been scaling back trading in commodities in recent years. Goldman Sachs Group Inc. is reviewing the direction of its commodities business after a first-half slump, according to people familiar with the matter.
"There are lots of structural changes going on, which means you need much more of an open mindset when you look at this," El-Erian said.
Before it's here, it's on the Bloomberg Terminal.
LEARN MORE