business
Deal of the Week: Staples and Walgreens and Sky, Oh My!
By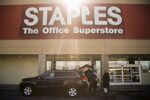 A trifecta of deal news late last week brings Bloomberg M&A reporter Ed Hammond into the studio. He expresses admiration over the price Staples was able to get -- $6.9 billion -- from Sycamore Partners and optimism about Fox's chances to get its Sky acquisition approved. But the news isn't as rosy for Rite Aid and a smaller drugstore company called Fred's.
Before it's here, it's on the Bloomberg Terminal.
LEARN MORE