politics
China Warns Against 'Negative' U.S. Turn as Trump Raises Heat
By
Xi acknowledges tensions in phone call with American leader

Leaders talk trade, North Korea before G-20 summit in Germany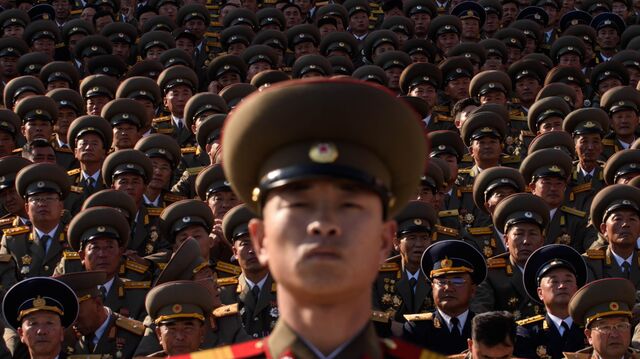 President Xi Jinping's complaint about a "negative" turn in China's relationship with the U.S. showed the challenge facing Donald Trump when the two leaders meet in Germany this week.
Xi's comment during a phone call with Trump on Monday followed several assertive U.S. moves in Asia, including a naval patrol past a Chinese-controlled islet a day earlier. The American president called in part to advance talks on curbing North Korea's nuclear weapons program, which have progressed little since Xi's sunny April visit to Trump's Florida resort.
"Ties are also affected by some negative elements, and the Chinese side has already expressed our stance to the U.S.," Xi told Trump, according to state broadcaster China Central Television. "China and the U.S. should tightly grasp the overall direction of development based on the consensus we reached at Mar-a-Lago."


The remarks were Xi's first acknowledgment of rekindled tensions between the world's two largest economies ahead of an expected meeting at the Group of 20 summit that begins Friday in Hamburg, Germany. Besides Trump's frustration with China's contribution to reining in Kim Jong Un -- expressed in a tweet last month -- members of his administration have also renewed criticism of the country while returning to a harder line on trade. 
The risk is that Trump rethinks his early detente with Xi and advances a punitive approach similar to what he advocated during the campaign. Moves such as levying tariffs or boosting ties with Taiwan could prompt retaliation from China, especially as Xi prepares for a key Communist Party party reshuffle.
A White House summary of Trump's call said "both leaders reaffirmed their commitment to a denuclearized Korean Peninsula" while discussing a range of issues. The president "reiterated his determination to seek more balanced trade relations with America's trading partners," the White House said.
Trump put the onus back on China Tuesday after the latest missile tested by North Korea landed in waters near Japan. "Perhaps China will put a heavy move on North Korea and end this nonsense once and for all," he wrote on Twitter.
'Disastrous Consequences'
"China-U.S. ties have somewhat cooled a bit from their giddy heights after the Mar-a-Lago summit," said Jia Qingguo, dean of Peking University's diplomacy department and a foreign affairs adviser to the government. "This climb-down was within expectations, because China cannot single-handedly deliver on North Korea."
China's ambassador to the United Nations warned that "the consequences would be disastrous" if the U.S. and North Korea failed to resume talks. "We cannot afford to wait for too long before dialogue" Liu Jieyi told reporters Monday in New York.
While Trump initially focused on getting China's help to prevent Kim from developing an intercontinental nuclear missile, other old disputes have been resurfacing. The U.S. has in recent days announced a $1.3 billion arms sale to Taiwan, published a report ranking China among the world's human-trafficking offenders and called on Beijing to let ailing Noble Peace Prize winner Liu Xiaobo seek cancer treatment abroad.
Political Pressure
In addition, the U.S. Navy on Sunday sent the guided-missile destroyer USS Stethem close to Triton Island in the South China Sea, which is also claimed by Taiwan and Vietnam. Wu Qian, a spokesman for China's Ministry of National Defense, called the incursion a "grave offense," according to the official Xinhua News Agency.
Whether such moves were isolated, part of a campaign to show China the price of inaction or steps toward a more confrontational strategy was unclear. The U.S. is raising the pressure at a sensitive time for Xi, who must project strength ahead of a party congress in the fourth quarter that will shape his influence into the next decade.
The political atmosphere makes moves toward Taiwan, which China considers a breakaway province and one of "core" issues, particularly provocative. That's especially true after Trump broke with decades of protocol against interactions with Taiwanese leaders in December and accepted a phone call with the island's president.
'Tit-for-Tat Response'
"Going overboard in trying to put pressure on Beijing may prove counterproductive, since it will simply prompt a tit-for-tat response from which the U.S. will not emerge unbruised," the state-run China Daily said in an editorial Sunday. The piece, titled "It's unwise for Washington to play the Taiwan card," warned against any efforts to embrace a congressionally supported push to allow U.S. Navy visits at the island's ports.
China's summary of the presidential phone call said that Trump reaffirmed the long-standing U.S. policy recognizing Beijing as the sole legitimate government of China. The White House made no mention of the subject.
Trump's call with Xi followed a separate chat with Prime Minister Shinzo Abe, of Japan, a U.S. trade rival that's also key ally against Kim's regime. Japan's chief cabinet secretary, Yoshihide Suga, told reporters Monday that the pair agreed that China must be firmer with North Korea.
Trump, Xi and Abe will all have an opportunity to discuss issues of concern at the G-20 summit.
"I do find the 'honeymoon's over' conclusion a bit premature," said Jia, of Peking University. "The G-20 summit will provide another chance for President Xi and Trump, who have already established good personal relationship, to catch up and maybe repair things a bit."
— With assistance by Keith Zhai
(
Updates with Trump's tweet in seventh paragraph.
)
Before it's here, it's on the Bloomberg Terminal.
LEARN MORE