Brazil Ex-Minister Arrested, Adding to Pressure on Temer
By and
Geddel Vieira Lima accused of obstruction of justice

Minister resigned last year over influence-trafficking claims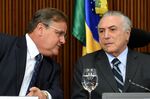 A former Brazilian cabinet minister and close aide of President Michel Temer was arrested by federal police on Monday, in yet another sign of the country's political volatility.
Geddel Vieira Lima was detained on suspicion that he tried to obstruct investigations into the deviation of funds from the state-run bank, Caixa Economica Federal, according to a statement by the public prosecutor's office. The government's ex-chief liaison with Congress knows that he is innocent and trusts the judiciary, a lawyer for Vieira Lima wrote in a statement.
The arrest of the ex-minister, who resigned in November last year following allegations of influence trafficking, adds to the turbulence in Brasilia. It comes just hours after Temer decided to attend the G-20 summit in Germany this week, reversing plans to stay in Brazil to deal with the political crisis, including his own defense against charges of bribe-taking. Over the next few days, the Senate is also due to vote on labor reform, one of the government's flagship bills. The latest scandal may increase the cost of support for the Temer administration in Congress.
"The opposition will try to exploit the case to create more economic and political instability," said Andre Moura, from the government-allied Social Christian Party. "For them, the worse things get, the better."
The real pared gains after news of the arrest, given the prospect of further complications for the government's market-friendly policies. Earlier on Monday, Moody's Investors Service warned that the government's social security reform was at risk and that a failure to pass the bill could have a negative impact on Brazil's credit rating.
A presidential aide, who was not authorized to speak on the record, said that Temer had been expecting Geddel's arrest and that he believed it was part of a strategy by police and prosecutors to strangle his government.
The president said that he was "almost certain" that the lower house of Congress will throw out the charges against him in an interview with BandNews on Monday evening. Two-thirds of the Chamber of Deputies must vote in favor of a trial at the Supreme Court for the case to go ahead.
How to Try a President in Brazil - a Step by Step Guide
Aside from the obstruction of justice accusations, prosecutors also claim that Vieira Lima was attempting to stop others, including the jailed former speaker of the lower house, Eduardo Cunha, from signing a plea bargain deal with investigators. Cunha was the driving force behind last year's impeachment of Dilma Rousseff.
— With assistance by Mario Sergio Lima, and Gabriel Shinohara
Before it's here, it's on the Bloomberg Terminal.
LEARN MORE