Abe's Most Divisive Policies Face Hurdles After Tokyo Defeat
By
His plan to change the pacifist constitution has split voters

LDP has warned that EU trade deal could hurt Japan's farmers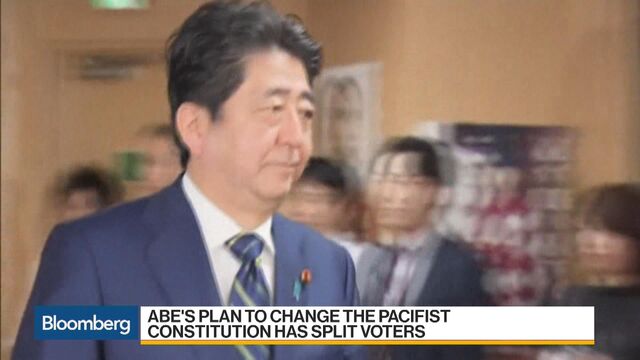 Japanese Prime Minister Shinzo Abe's most controversial policies may face fresh hurdles after voters inflicted his first major election defeat since taking power in 2012.
Abe insisted in an interview published Tuesday that he would press ahead with plans to present the first-ever constitutional amendments to parliament in the next session. But achieving his ambition of enshrining the existence of the Self-Defense Forces in the top law looks more remote after the bloodbath the ruling party suffered in Sunday's Tokyo assembly elections.
The prime minister's grip over the Liberal Democratic Party had already been loosened before the vote by a series of scandals and gaffes that led to a plunge in his approval ratings. After the LDP won its smallest number of seats on record in the capital, the loss of party unity may make it hard for him to push through unpopular policies.
Instead, he may opt for sweeteners such as further fiscal stimulus or a delay to a planned sales-tax hike.While he's in no immediate danger of losing his job, he needs to rebuild support to win re-election as party leader next year and avoid losses in a general election that must be held by the end of 2018.
Read more about the LDP's historic electoral defeat
The increasingly complex calculus for the timing of the general election means that abandoning plans for constitutional change "will emerge as an option," said Katsuhiko Nakamura, executive director at the Asian Forum Japan think tank in Tokyo.
Rival Priorities
Abe sprang the idea of a rapid change in a May newspaper interview, with a view to executing it before an election that would probably see him lose the necessary two-thirds majority in both houses of parliament. But he's already come under fire from within his party after saying he wanted a party draft presented to the Diet by the end of the next session expected in the autumn.
Shigeru Ishiba, a hawkish potential rival from Abe's party, said in an interview broadcast on Sunday that social security and fiscal problems in the rapidly aging country should take priority over constitutional change, the Sankei newspaper reported.
A member of Ishiba's faction was more direct in his criticism of party leadership. Lawmaker Masazumi Gotoda complained on his website that he had been admonished by leaders for acknowledging the administration's faults in a speech during the election campaign.
"Looking at the party executives' management through tale-telling, tight control and flattery, I can't help but think the election result was inevitable," he said.
Trade Deal
More immediately, the uncertainty could play into this week's last-ditch negotiations on a trade deal with the European Union.
The two sides are close to reaching political approval of an accord, EU Trade Commissioner Cecilia Malmstrom told reporters in Madrid on Monday. Such an agreement could help restore global momentum toward free trade after U.S. President Donald Trump disappointed Japan by pulling out of the Trans-Pacific Partnership.
Foreign Minister Fumio Kishida may visit Brussels in the next few days for talks with Malmstrom aimed at reaching a broad consensus before the G-20 summit starting Friday in Germany.
"There will be questions within the party as to whether it's wise to do something that hurts the interests of LDP supporters in the current atmosphere," Nakamura said. "It will be more difficult to compromise."
The LDP's agriculture lobby has urged the government to keep protecting Japan's dairy industry from the competitive EU cheese sector. But Japan is also keen to promote the interests of the auto industry, which wants tariff-free access to European markets.
Cabinet Reshuffle
Abe will also have to consider a cabinet reshuffle after his tour of northern Europe. Defense Minister Tomomi Inada, one of only three women in the cabinet, is likely to be replaced after a series of gaffes sparked widespread criticism and there is little sign that Abe can produce a line-up strong enough to bolster support.
"All monetary, fiscal policy management will be affected by change in cabinet faces and also the declining momentum in Abenomics," Hiromichi Shirakawa, chief Japan economist at Credit Suisse Group, said on Bloomberg TV on Monday. "We will be very closely watching what is happening with a cabinet reshuffle, which could take place by the end of this month."
Abe could also face a special parliament session to investigate allegations of cronyism over government assistance for a veterinary school run by one of his friends. This could make for uncomfortable comparisons with 2007, when he stepped down from his first term as premier, after a series of scandals and as he battled opposition to Japan's maritime-refueling mission in support of North Atlantic Treaty Organization-led anti-terrorism operations.
— With assistance by Takashi Hirokawa
Before it's here, it's on the Bloomberg Terminal.
LEARN MORE