business
Etihad's Hub Seeks Edge on Gulf Rivals on Eased U.S. Laptop Ban
By and
Abu Dhabi airport head says existing U.S. customs site helped

Limits on large electronics remain for other airports' flights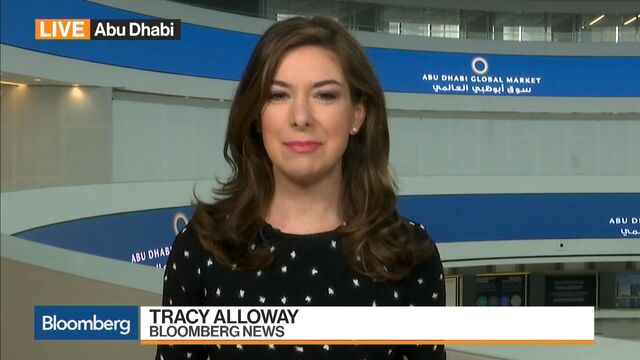 Abu Dhabi is seeking an air-transport edge over its Persian Gulf neighbors after becoming the region's first hub to be exempt from a ban on electronic devices in cabins of planes flying to the U.S.
Abu Dhabi International Airport won the go-ahead to let passengers carry devices such as tablets or laptops aboard their flights after U.S. Transportation Security Administration officials assessed enhanced security procedures in a two-hour check late Saturday,  Abdul Majeed Al Khoori, acting chief executive officer of the airport's parent company, said in a phone interview. Being home to the Middle East's only U.S. customs pre-clearance facility was the main reason for the airport to get approval, and traffic is likely to increase as travelers in the region route their U.S. trips via the emirate, Al Khoori said.
The airport, the base of Abu Dhabi-owned Etihad Aviation Group, was one of 10 in the Middle East and North Africa where American authorities prohibited passengers as of late March from bringing electronic items larger than mobile phones as carry-ons aboard U.S.-bound planes. The restrictions still apply at the other nine airports, including Dubai, the home of chief Etihad rival Emirates, and Doha, where competitor Qatar Airways Ltd. has its headquarters. U.S. officials are pushing airports abroad to beef up security after intelligence reports indicated that terrorist groups may be capable of hiding bombs in the devices.
Etihad is the only airline with direct flights to the U.S. from Abu Dhabi. Passengers on those routes use a U.S. immigration and customs pre-clearance facility at Abu Dhabi's Terminal 3 that opened in 2014. The airport is about 130 kilometers (80 miles) by road from its counterpart in Dubai.
"If you're going to the U.S. on Emirates, but you could go from Abu Dhabi with your laptop, which would you choose?" Al Khoori said.
Abu Dhabi International Airport expects to handle 25 million passengers in 2017, slightly up from 24.5 million last year, Al Khoori said, with slowing traffic growth due to the "regional situation." Travel demand across the Persian Gulf is weakening as low oil prices hold back economies that depend on petroleum, while a political dispute between Qatar and several of its Arab neighbors has included a total cutoff in transport ties.
Emirates, the world's biggest long-haul airline, has previously said it suffered a drop in bookings and had to ground 13 planes because of U.S. restrictions on entry visas as well as the electronic carry-ons. Dubai Airports has "offered our full cooperation to work with regulatory officials, control authorities and Emirates" to ease limits on devices, but the operator can't estimate when they'll end, a spokesman said in an emailed response to questions.
Before it's here, it's on the Bloomberg Terminal.
LEARN MORE