politics
Trump Aide Says Repealing Obamacare, Replacing Later Is an Option
By
Legislative director says Trump working phones on Senate bill

Vows to enact both health-care and tax bills this year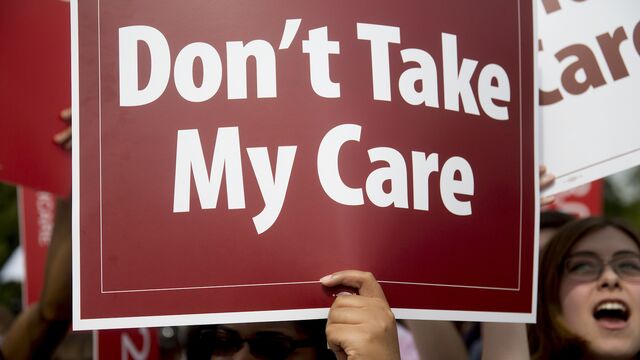 Amid delays in bringing a Republican health-care bill to the Senate floor, a White House official said Sunday that the administration considers separating the repeal and replace components of abolishing Obamacare as an "option."
In his first Sunday news-show appearance, Marc Short, the White House legislative affairs director, noted that 49 senators had voted in the past for repealing Obamacare with the intention of passing a replacement later, something President Donald Trump suggested in a Twitter posting last week.
But Short also said the administration's preference was to pass the bill the Senate has now, and that Trump is working the phones to "to try to get this Senate package across the finish line." "We're getting close," Short said on "Fox News Sunday."
The White House expects to be able to pass both a health-care bill and a measure to overhaul the tax code before the end of the year, Short said.
Last week, Majority Leader Mitch McConnell pulled the Senate's health-care bill from consideration amid opposition from both conservative and moderate Republicans. When compromise legislation didn't emerge before the Independence Day recess, Trump promoted the idea that the process could be split up.
"If Republican Senators are unable to pass what they are working on now, they should immediately REPEAL, and then REPLACE at a later date!" he tweeted Friday morning.
No Consensus
Short predicted a repeal bill would have enough Republican votes to pass, and "then at that point, if you've repealed it, you can come back with a replacement effort that could be more bipartisan," he said.
After years of criticizing Obamacare, Republican leaders have struggled to build consensus on a replacement. Conservative lawmakers insisting that legislation remove more of the taxes and mandates in President Barack Obama's signature health law, while moderates want to ensure continuity of coverage and are concerned about cuts to Medicaid, the joint federal-state health care program for the poor.
Short said the White House supported efforts by Senators Ted Cruz of Texas and Mike Lee of Utah to bring their fellow conservatives on board with a measure, the Consumer Freedom Act, that would allow insurers to sell cheaper, less robust plans as long as they also offer policies that meet the higher coverage standards imposed by Obamacare.
Ohio Governor John Kasich, a former Republican presidential candidate, said on ABC's "This Week" that repealing Obamacare without a replacement won't work because "you can't leave people without what they need." Senator Pat Toomey of Pennsylvania said on Fox News Channel that while he would be okay with a split a approach, "I'm not sure it would pass."
Close in Time
Republican Senator Rand Paul of Kentucky said getting repeal and replace bills close together in time would be key for centrist members of his party.
"The moderates won't vote for a repeal, a clean repeal, unless they have some other bill going on simultaneously," Paul said on Fox. "You can have a simultaneous bill or a concurrent bill that they can call replace and that, I think perhaps if it's big spending, they can probably get Democrats to go along."
Paul, who said he wouldn't support the latter bill, also criticized spending in the current plan, including a proposal to add $45 billion for tackling the opioid epidemic seen as an enticement for lawmakers including Senator Rob Portman of Ohio.
Kasich, who expanded Medicaid and vetoed a provision in his state budget on Friday that would have frozen enrollment in the program starting next year, called the proposed spending "anemic'' and said it won't address the problem the way Medicaid coverage can.
"But that's what they're going to use, these efforts to try to buy people off,'' Kasich said. "They'll throw big high numbers but they won't understand what the impact is on the program.''
Medicaid's Starring Role in U.S. Health-Care Flap: QuickTake Q&A
Senator Ben Sasse of Nebraska, another Republican who has recently expressed support for separating repeal and replace, said the scheduled August Senate recess should be canceled so lawmakers can continue to debate.
"Let's bring everybody into the room, let's do this full-time, 18 hours a day, six days a week," Sasse said on CNN's "State of the Union." "Let's do it in full public view."
Asked if he preferred to do permanent tax reform, which cannot increase the federal deficit, or pass short-term tax cuts, Short said, "what's most important is to get the economy growing so people can get back to work." That "means tax relief," Short said.
Short, 47, formerly a congressional aide and president of Freedom Partners, a political donor network associated with the Koch brothers, also said a proposal by Toomey to change budget rules to make temporary tax cuts last for two decades or more a "an attractive option."
— With assistance by Mark Niquette, and Elizabeth Dexheimer
Before it's here, it's on the Bloomberg Terminal.
LEARN MORE