BOJ May Need QE Exit Talks by Year-End on Economy, PGI Says
By and
Fed could cut balance sheet first before hiking rates: PGI

Draghi's upbeat remarks surprising but appropriate amid growth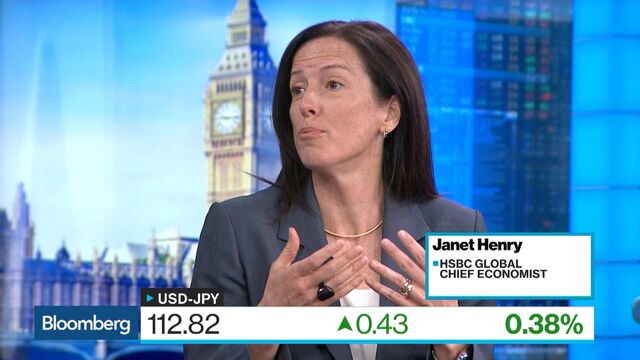 As global central banks turn increasingly hawkish, the Bank of Japan Governor Haruhiko Kuroda may have to start discussing an exit from its monetary stimulus program by the end of the year, according to Principal Global Investors, which manages more than $424 billion.
Kuroda stood out from other central bankers at the ECB Forum in Portugal last week with his dovish stance on policy, signaling that Japan needs a sustained period of growth before wage pressures begin to build.
"I think by the end of this year Kuroda will also have to start talking about some sort of exit, or at least raising the peg on 10-year yields from zero," Robert Baur, chief economist at the Iowa-based investment manager, said in an interview on Thursday. The economist expects Japan's growth to surprise on the upside, as has happened in Europe.
"I would assume we'll see some progress toward the inflation target by the end of the year," Baur said. "Japan probably will get there more slowly than the other countries, but I think there will be progress and Kuroda will have to acknowledge the progress."
Japan is enjoying its longest economic expansion in a decade with gross domestic product increasing for a fifth straight quarter, though the latest inflation data show it's still some way from the BOJ's 2 percent target. The yen fell and Japanese government bond yields rose last week, amid hawkish comments from Federal Open Market Committee members and as European Central Bank President Mario Draghi's remarks opened the way for paring monetary stimulus.
The Japanese economy continued to show signs of recovery Monday, with the Tankan survey showing that confidence among Japan's large manufacturers improved for a third straight quarter. The yield on the 10-year bond rose to 0.08 percent, compared to 0.05 percent a week ago.
Growing Pressure
Pressure is growing on Kuroda, with the president of Japan's life insurance association saying last month the BOJ should talk openly about how it might unwind its policies. Kuroda shouldn't serve another term when his tenure expires in April as the central bank needs fresh ideas to move toward exiting years of monetary easing, said Nobuyuki Nakahara, an adviser to Japan's prime minister and a former BOJ board member.
The Tokyo election loss by Prime Minister Shinzo Abe's ruling party over the weekend has also raised questions over what it means for Japanese bond markets, wrote Makoto Yamashita, chief strategist at Deutsche Securities. With Kuroda and his deputies ending their tenure next year, Abe would have wanted to appoint replacements that are willing to continue with monetary easing, he said. There would be upward pressure on yields if Abe loses his grip on power and uncertainty arises over BOJ's policies, according to Deutsche.
Very Appropriate
"We thought that Draghi might wait until September to acknowledge that the growth was much faster and then he would start talking about exit, but he has already started that and I think that is very appropriate," Baur said.
The Fed will carry on its monetary tightening measures, but Baur sees a 60-40 chance it will refrain from raising interest rates again this year. The central bank may place a greater priority on reducing its balance sheet after outlining a road map in June, he said.
The Fed may give a date for balance sheet reduction in September, and then implement it in October or November, according to Baur. It may wait on another rate hike until next year, and gauge the market impact of the balance sheet unwind first, he said.
"I think they would rather do one at a time and gauge the reaction of the markets to it," Baur said. "And then if markets don't seem to care about the balance sheet reduction or not much happens, then I think they will feel easier about raising rates again."
Before it's here, it's on the Bloomberg Terminal.
LEARN MORE