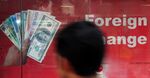 As Chinese President Xi Jinping toured Hong Kong to mark two decades since the former British colony's return to China, another important 20th anniversary was being passed.
Predictably, there was no plan to celebrate the collapse of the Thai baht on July 2, 1997.
If the handover of Hong Kong was a seminal event, the Asian financial crisis, which spread quickly from Bangkok and Kuala Lumpur to Jakarta and Seoul, was no footnote. Not only did the contagion crush Asian currencies, it also decimated undercapitalized banking systems by crimping the ability of borrowers to service foreign-currency debt.
The main actor in that drama was the dollar. With local currencies pegged to it, loans in America's currency were how both banks and non-bank Asian companies liked to finance themselves. U.S. lenders' claims on the Asia-Pacific region had more than tripled to $75 billion in under a decade. No surprise, then, that by 1998 as much as 58 percent of all bank advances in Indonesia had soured.
Indonesia is a good example of how much things have changed. In the last few years, the commodity-producing nation has borne the brunt of falling prices. But the nonperforming loan ratio for the banking system is a manageable 3 percent. More generally, the region's financial institutions are strong, with capital and liquidity buffers that are the envy of the West, and a wide deposit base that's left them less reliant on offshore funding.
Not everything is hunky dory, though. India, which was spared the ravages of 1997, also missed out on the banking reforms that followed. New Delhi is only fixing creditor rights now, when lenders are saddled with $180 billion in bad loans.

Also, some reforms -- like the taming of the Korean chaebol -- have eluded politicians' grasp, while some debtors, like the group controlled by the family of Indonesian politician Aburizal Bakrie, are as reckless as ever. In the 1997 crisis, the family lost 97 percent of its shareholding as creditors took haircuts of 80 percent. Twenty years later, PT Bumi Resources, the group's coal-mining flagship, is going through a fresh, court-approved restructuring of its loans and bonds.

China's growing importance has meanwhile created new financing opportunities, and fresh vulnerabilities.
Hong Kong's property and stock markets, as well as its banks, are more in thrall to China than ever before. For most Asian countries, the mainland is their No. 1 trading partner. Industrial & Commercial Bank of China Ltd. has even managed to enter the engine room of Wall Street by becoming a go-to dealer in repo agreements, rubbing shoulders with the likes of Goldman Sachs Group Inc.
Yet as the world's economic center of gravity shifts, lenders could end up carrying the burden of a messy transition. Xi's One Belt One Road initiative could involve calling on the region's banks to help fund uneconomical projects, for instance.
China's effect on banking may have other dimensions, too. Returns on equity for Asian banks have tapered, partly because of years of low interest rates. But fintech, especially the challenge presented by Baidu Inc., Alibaba Group Holding Ltd. and Tencent Holdings Ltd., could make low returns the new normal. To help banks cope, Singapore is letting its lenders deploy capital in nonfinancial businesses -- something it had forbidden them to do after the Asian crisis.
Amid sweeping change, the biggest vulnerability remains what it was 20 years ago: the dollar. Clients in export-oriented Asia still want the greenback, and European banks' retreat from cross-border finance is a growing opportunity for domestic lenders to fill the void and globalize. But they don't have enough dollar deposits.
Goldman Sachs last year highlighted a $300 billion foreign-currency funding gap at the big three Japanese banks and a combined $139 billion shortfall at the four top Chinese lenders. Recently, the Bank for International Settlements repeated the warning: Japanese banks' $3.5 trillion in dollar assets exceed dollar liabilities by $1 trillion. That's a big dependence on wholesale financing.   
By 2037, China alone might have a couple of banks with more clout than a Goldman Sachs or a Citigroup Inc. But for that, king dollar would need to do a handover first.
Before it's here, it's on the Bloomberg Terminal.
LEARN MORE