business
Merkel, Macron Pledge a United Europe as They Bid Kohl Farewell
By and
Strasbourg ceremony also attennded by Clinton, Medvedev

Ceremony full of pro-EU symbols while many citizens doubt
European leaders paid tribute to Helmut Kohl, vowing to live up to the German's unflagging efforts to work for European unity at a time when many voters across the continent have expressed their doubts.
The life of the German chancellor, who oversaw his country's 1990 reunification after the Cold War and helped forge Europe's economic and monetary union, was celebrated Saturday in a rare memorial ceremony at the European Union Parliament in Strasbourg two weeks after his death at age 87.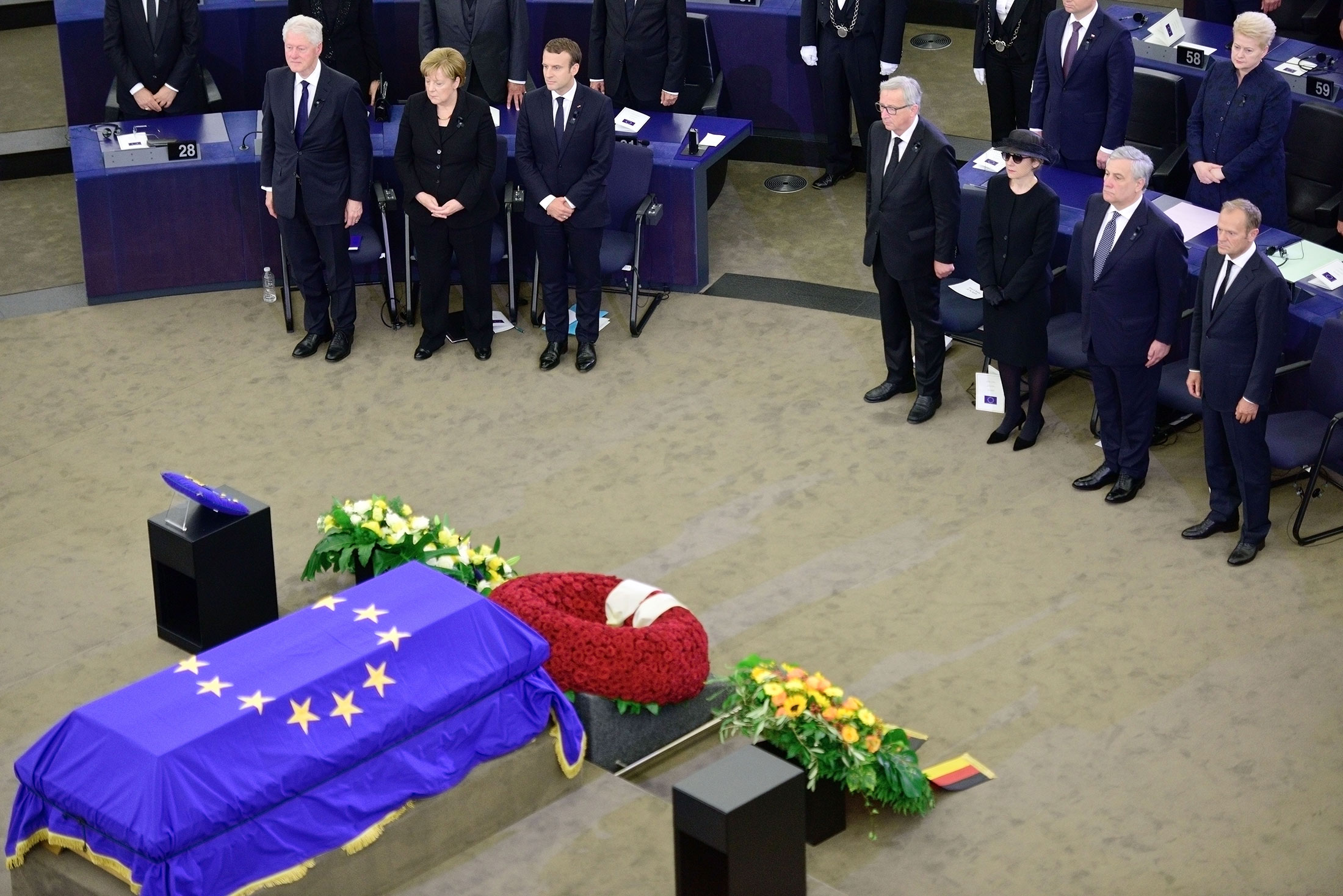 "Much of what we take for granted today we can thank him for: that Eastern and Western Europe are united, that we have a common market, that there are no border controls between EU states and that most of them share a common currency," said Angela Merkel, the current chancellor whom Kohl gave her first cabinet post. "The EU in its present form -- that's for the most part a legacy of Helmut Kohl."
French President Emmanuel Macron, a 4-year-old when Kohl took office and who won the presidency on a unabashedly pro-European platform, said he'd work with Merkel to pursue Kohl's construction of a "kindhearted" Europe and that "history will judge us."
"For France, he was not only an essential and tireless builder, but he was a friend," Macron said. "The history of Europe is the history of men and women who had the courage to rise up against fear and hate."
EU Flag
In a ceremony full of pro-European symbolism, Kohl's coffin was draped in the EU flag and the memorial was held at the European Parliament chambers in Strasbourg, a city that's now French but has also lived under German rule. The local dialect combines both languages. Macron added a few phrases in German in his speech.
Kohl was eulogized by the heads the main EU institutions, as well as former U.S. President Bill Clinton, Russian Prime Minister Dmitry Medvedev and former Spanish Prime Minister Felipe Gonzales.
"He was a German patriot and at the same time a European patriot," EU Commission President Jean-Claude Juncker said.
Germany's longest-serving chancellor since 19th century leader Otto von Bismarck, Kohl took office in 1982 when the Soviet Union had an iron grip on eastern Europe. He was voted out of office 16 years later, having earned the title of unity chancellor after mass protests ousted East Germany's communist regime, leading to reunification 11 months later. East Germany's collapse paved the way to power for Merkel, an East Berlin physicist who joined the Christian Democrats and was recruited by Kohl for his post-unity cabinet. A decade later, she broke with him over a party financing scandal and soon took over his former post as CDU leader. She's been chancellor for almost 12 years.
Mitterrand, Euro
Kohl's friendship with French President Francois Mitterrand helped pave the way for the EU, its expansion to the east and the birth of the euro. An iconic picture in 1984 showed him standing hand-in-hand with Mitterrand at the French World War I battlefield of Verdun honoring the dead of the two countries, enemies in both world wars.
"Helmut Kohl and Francois Mitterrand were able to overcome the traumas of their generation," Macron said.
Kohl won French support for his European vision soon after becoming chancellor, Merkel told mourners. Mitterrand was cool initially but it was "all fire and flame" for Kohl after a visit to Paris, she said. Kohl "embodied an epoch" and his "friendly, personal relation with France became a hallmark for relations between the EU partners, said Merkel.
Kohl became a champion of the common currency over the objections of most German voters and part of the political establishment. He cited the euro as a symbol of Germany's duty to Europe in the shadow of its Nazi past.
After the Strasbourg ceremony, Kohl's coffin will travel down the Rhine for a private family funeral in the town of Speyer.
— With assistance by Arne Delfs, and Patrick Donahue
Before it's here, it's on the Bloomberg Terminal.
LEARN MORE