U.S. Stocks Advance After Worst Equity Selloff in Six Weeks
By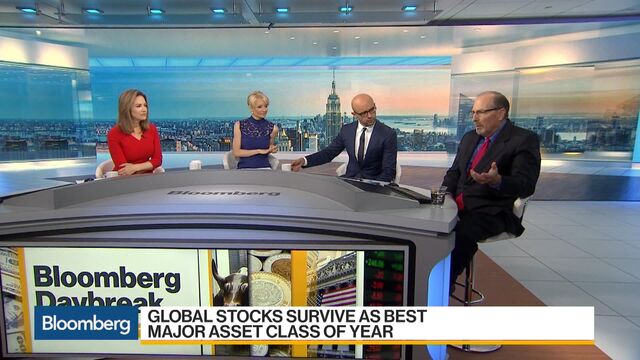 U.S. stocks climbed for the third time this week as industrials stocks led advances in every industry group in the S&P 500.
The S&P 500 added 0.3 percent as of 9:45 a.m. in New York, as the Dow Jones Industrial Average jumped 92 points to 21,376. The Nasdaq 100 Index climbed 0.3 percent, with the underlying measure heading for its worst week of the year following a tech selloff.

Industrial shares jump 0.7% for biggest gain in market
Discretionary and tech shares up at least 0.5%
Financial stocks up 0.4%
Telecom and health-care stocks little changed
Energy up 0.4%$ as oil jumped 0.9%

Oil rose for a seventh day, heading for its longest stretch of gains this year as signs of slipping U.S. supply eased pressure on OPEC-led curbs

The S&P 500 has risen 8.1 percent in the first half of the year. Technology stocks, the best performers in the period, have been giving up gains recently
Banks have rallied this week as they boosted shareholder payouts after clearing annual stress tests, and benefited from speculation of higher interest rates following central-banker comments
POLITICS:

The Trump administration is preparing to make a decision on steel tariffs, though it's likely to miss a self-imposed deadline to conclude its investigation by Friday, according to a White House official
President Donald Trump on Friday said that if Republican senators can't strike a deal on their health bill, they should immediately repeal Obamacare and then replace it later

ECONOMY: 

U.S. June MNI Chicago Report Rises to 65.7 vs Est. 58; forecast range 55-60.9 from 38 economists surveyed
After-tax disposable income adjusted for inflation climbed 0.6 percent during the month, the most since April 2015, Commerce Department data showed Friday

EARNINGS: none
For more equity market news:
Before it's here, it's on the Bloomberg Terminal.
LEARN MORE