News
Trump's New Lawyer Scrutinized by Two State Attorneys General
Jay Sekulow runs nonprofits that pay millions to his family members. New York and North Carolina are curious.
By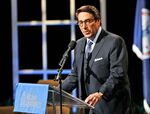 Jay Sekulow, one of President Donald Trump's personal attorneys, made a big impression June 18 when he appeared on four Sunday-morning talk shows, denying that the president is under investigation. The assertion drew attention because it directly contradicted a June 16 Twitter post by his boss, in which Trump said, "I am being investigated."
That confusion related, of course, to Special Counsel Robert Mueller's ongoing criminal probe of the Trump campaign and Russia's interference in the 2016 election. Sekulow is a member of the legal team representing the president in connection with the Mueller probe.
Now Sekulow must grapple with inquiries of a different sort, as two top state prosecutors investigate how he runs a pair of Christian-themed nonprofits that annually pay millions of dollars to him, his relatives, and businesses they own. The charities have received media attention for years. More recently, Bloomberg Businessweek described them in an online article June 20 and the Washington Post published an in-depth look on June 27.
On Wednesday, the attorneys general of New York and North Carolina announced they are reviewing filings by the Sekulow organizations. "The reports I've read are troubling," North Carolina Attorney General Josh Stein said in a prepared statement. "My office is looking into this matter." Amy Spitalnick, the spokeswoman for New York Attorney General Eric Schneiderman, said via email: "We're reviewing their filings. I'm going to have to leave it there for now." Word of the state inquiries appeared first in the Guardian.
A spokesman for Sekulow didn'​​​​​​t return a voice mail message seeking comment.
A former general counsel for the organization Jews for Jesus, Sekulow, 61, has experience arguing before the U.S. Supreme Court on behalf of Christian causes and serving as a conservative pundit on television and radio. The better known of his nonprofits is the American Center for Law & Justice, or ACLJ, a group founded in 1990 by Christian televangelist Pat Robertson.
Sekulow serves as chief counsel and chief executive of ACLJ, which received contributions and grants of more than $19 million in 2015, the most recent year for which IRS nonprofit filings are available. Based in Virginia Beach, Va., ACLJ lists Sekulow's brother, Gary, as chief financial officer and chief operating officer. Gary Sekulow is listed as receiving compensation of more than $290,000. ACLJ's IRS filing indicates that Jay Sekulow received no salary in 2015. But the organization transferred more than $5 million to a Washington law firm of which he's a 50 percent owner. The firm is called Constitutional Litigation & Advocacy Group.
Jay Sekulow also serves as president of a second nonprofit, Tucker, Ga.-based Christian Advocates Serving Evangelism, or CASE, which raised more than $52 million in 2015, according to its IRS filing. Four Sekulow relatives, including Jay's wife, Pam, and his brother, Gary, are listed as serving on CASE's board of directors. Gary's compensation from CASE and related organizations is listed as more than $630,000 (it's not clear if that double-counts his ACLJ pay). CASE's filing says that in 2015 it transferred nearly $16 million to ACLJ and made payments totaling almost $1.2 million to businesses owned by Jay Sekulow.
Based on its analysis of tax documents, the Washington Post found that for the five years spanning 2011 to 2015, the nonprofits paid a total of $5.5 million directly to Sekulow and five family members and another $23 million to firms they controlled.
Before it's here, it's on the Bloomberg Terminal.
LEARN MORE