politics
Getting Engaged Won't Qualify You for a Trump Travel Ban Exemption
By
State Department says fiances don't qualify as close relations

Americans get tens of thousands of fiance visas each year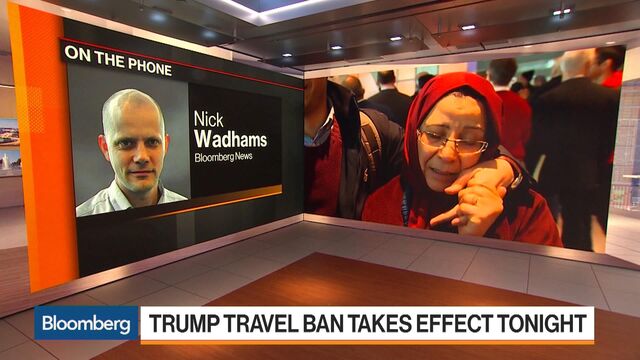 U.S. President Donald Trump may have set himself up for a new clash with the courts over his travel ban, by picking a fight with fiances.
The Supreme Court on Monday allowed Trump to implement his long-awaited ban on travel from six Muslim-majority nations, but the justices exempted travelers with "bona fide" ties to the U.S. They left it to the administration to define those ties, and it did so Wednesday.
Fiances didn't make the cut.
The Supreme Court's 13-page opinion made it clear that the narrowed ban can't apply to any of the numerous plaintiffs in the case, including Paul Harrison of Texas, who sued on behalf of his fiance from Iran, said one of his attorneys, Cecillia Wang of the American Civil Liberties Union.
"He's blatantly going beyond what the Supreme Court ordered," Wang said in a phone call, speaking of Trump. "He's digging in his heels about what his intention has been all along -- to institute a Muslim ban."
White House spokesman Michael Short rejected the idea that Trump is inviting litigation by applying the 90-day ban to fiances and other relations.
'Protect the Country'
"The President wants to protect the country," Short said in an email. "As recent attacks have shown, we are living in very dangerous times and the U.S. government needs every available tool to prevent terrorists from entering the country and committing acts of bloodshed and violence."
In a memo to consular staff after the Supreme Court ruling, the State Department defined close relationships as only including a parent (including in-laws), spouse, child, adult son or daughter, son-in-law, daughter-in-law, sibling -- whether whole or half -- and including step relationships, according to a person who confirmed details of the memo. The criteria was based both on the court's ruling and how family is defined under federal immigration law, officials said.
"We leave the injunctions entered by the lower courts in place with respect to respondents and those similarly situated," the Supreme Court said. That passage clearly applies to the two plaintiffs with fiances, and anyone else in the same position, Wang said.
By barring the entry of fiances from the six countries -- Iran, Syria, Libya, Yemen, Sudan and Somalia -- Trump is also denying U.S. citizens a protected right, said Reaz Jafri, who leads the immigration practice at Withers Bergman LLP in New York. Tens of thousands of U.S. citizens secure K-1 visas for their fiances who are foreign nationals each year, a process that formally recognizes the close bond between an applicant and a future spouse.
What Now After Supreme Court Rules on Travel Ban?: QuickTake Q&A
"If, in fact, they're saying your fiance is not a close family relation, that's a lawsuit that will be filed immediately and will result in a stay being put on the travel ban," Jafri said in a phone call. "I do think they know this will result in litigation, and litigation they cannot win, but they still want to have the debate."
Chicago immigration lawyer Mike Jarecki said the administration's view of fiances may be defensible in some cases, since people can get engaged just as easily after a casual meetup online as with a 10-year relationship.
"There is no legal relationship established by having a fiance in the U.S.," said Jarecki, who nevertheless views the ban as arbitrary and unconstitutional.
Christopher Hajec, director of litigation at the Immigration Reform Law Institute, which filed court briefs supporting the travel ban, also noted that in the immigrant context, "fiances are not always close to the other person."
'Green Card Fraud'
"It could be an arranged engagement or Green Card fraud," he said.
Bita Hamidi, a San Diego immigration attorney, said she fears the worst for the K-1 visa applications pending for two of her clients -- American citizens who are each engaged to Iranian men living overseas. Both couples are in long-term relationships and the process for all such applicants already includes extensive vetting and interviews, she said.
"Both of my clients are devastated; they don't understand why this is happening," Hamidi said in a phone call. "To say a fiance is not a bona fide relationship just seems political."
"It's inviting litigation," she said. "This administration seems to thrive on drama."
'Defies Common Sense'
The State Department's definition of close family "defies common sense" by excluding so many relationships, according to Johnathan Smith, legal director of the civil rights group Muslim Advocates. "It also directly goes against the intent of the Supreme Court's order," he said.
Smith said his group will have representatives in place at Dulles airport in Washington when the ban goes into effect at 8 p.m. local time in case anyone gets ensnared.
The Supreme Court highlighted the president's authority on immigration matters and said the lower courts went too far by blocking the travel ban from applying even to people with no connection to the U.S. But the opinion also pointed to the qualifying relationships of two plaintiffs, an unidentified man who wanted his wife to be granted entry into the U.S., and a doctor in Hawaii who sued to get a visa for his mother-in-law from Syria.
"The facts of the cases illustrate the sort of relationship that qualifies," the justices said.
Andrew Arthur, a former immigration judge and ex-staff director at the U.S. House Subcommittee on National Security, said the State Department's interpretation of a close family relationship would survive a court challenge.
"With respect to fiances, it's a potential relationship, but not a familial relationship," Arthur said in a phone call. "And the spouse in the United States can always go get married overseas."
(
Updates with view of former immigration judge in final two paragraphs.
)
Before it's here, it's on the Bloomberg Terminal.
LEARN MORE