News
Sky Deal Still Cloudy for Murdoch After U.K. Pledges More Scrutiny
Fox's $15 billion bid for the pay-TV system faces further review.
By , , and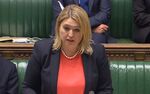 For the better part of a decade, Rupert Murdoch has sought to reassert his control over Sky Plc, the satellite broadcaster he founded in 1989. Six years ago, he came close, but the effort fell apart after revelations that one of his newspapers had hacked the cell phones of people in the news. On Thursday, Murdoch found out he'll have to keep waiting.
U.K. Culture Secretary Karen Bradley said she'll further scrutinize 21st Century Fox Inc.'s offer for Sky. She told Parliament she plans to ask the Competition and Markets Authority to investigate the power that the 11.7 billion-pound ($15.2 billion) bid would give Murdoch and his sons, who control The Times of London and The Sun tabloid as well as Fox's movie studios and TV networks and The Wall Street Journal. But Bradley said Fox could avoid the review if it were to strengthen proposals it's made to ensure Sky's editorial independence.
"The transaction raises public interest concerns as a result of the risk of increased influence by members of the Murdoch family trust over the U.K. news agenda and the political process, with its unique presence on radio, television, in print and online," Bradley told lawmakers.

With Sky, Murdoch reshaped British television in much the way his tabloids had redefined the newspaper business. After diluting his ownership stake in 1994 with a stock offering, Murdoch had wanted to regain control of Sky. He offered to spin off Sky News to appease regulators, but those efforts foundered in 2011 when journalists from his News of the World tabloid hacked into the voice-mail messages of a murdered schoolgirl, raising questions about management oversight.
This time around, Fox proposed guarantees for Sky's independence, including the creation of a separate Sky News editorial board composed mostly of people from outside the company. Fox also offered to give the head of Sky News control over the channel's journalism, and pledged that Fox employees and officers with ties to the Murdoch family trust wouldn't attempt to influence editorial decisions. Bradley said those measures were insufficient but gave Fox until July 14 to revise them. British regulators have suggested the company pledge to continue financing Sky News for longer than the five years it proposed, and that it offer stronger guarantees of the editorial board's independence.
An in-depth review by the CMA would lower the chances that a tie-up could be finalized this year, spelling continued regulatory uncertainty for the bid. The CMA could take as long as six months to investigate the matter before reporting back to Bradley, who would make a final decision. If the deal isn't completed by Dec. 31, Fox must pay Sky shareholders a dividend of 10 pence per share—or more than 170 million pounds.
Bradley's report has "taken the worst-case scenario off the table," said Neil Campling, an analyst at Northern Trust Capital Markets. "The balance of probability is now that it's more likely that the deal goes through."
Sky shares advanced 3.2 percent to 987.5 pence at 1:03 p.m. in London, the biggest gain since the deal was announced in December. The pay-TV broadcaster said it would continue to engage with the government until Bradley makes her decision. Fox welcomed parts of Bradley's announcement, but said it's disappointed that she had not accepted its proposals for maintaining Sky's independence.
The announcement slows Murdoch's efforts to create a trans-Atlantic media and entertainment giant. Sky would give New York-based Fox a powerful European distribution platform for pay television and internet, to complement its film studio and cable channels like FX and National Geographic. Sky provides satellite-TV service to 22 million customers across Britain, Ireland, Italy, Germany and Austria.
Murdoch got a bit of good news in a simultaneous report from Britain's communications regulator, Ofcom. The agency said that in spite of the phone hacking scandal and last year's revelations of sexual harassment by senior executives at Fox, it deemed the company a "fit and proper" recipient of a U.K. broadcast license.
Ofcom didn't, though, accept Fox's argument that the growth of social media since its attempt to buy Sky six years ago had diminished the power of traditional news organizations. The regulator found that while Facebook and similar sites are distributors of news, their role in producing content is limited and that the likes of The Sun and Sky News "retain a strong position."
A delay could expose Fox's bid to Britain's shifting political winds. Prime Minister Theresa May's Conservative Party is seen as more likely to approve the deal than the Labour Party, whose members have voiced opposition to Murdoch's plans. However, May's grasp on power was weakened in a snap election this month that left her without a majority.
"We live in very unstable political times. There is no meaningful parliamentary majority for the Tories," said Alex DeGroote, an analyst at Cenkos Securities. "This becomes even more of a political hot potato now than it was before the election."
Before it's here, it's on the Bloomberg Terminal.
LEARN MORE