Russia Keeps the Faith on Trump Even as U.S. Detente Hopes Fade
By and
U.S. political conflict hampering relations, officials say

Russia, U.S. need to resolve global issues, Kremlin aide says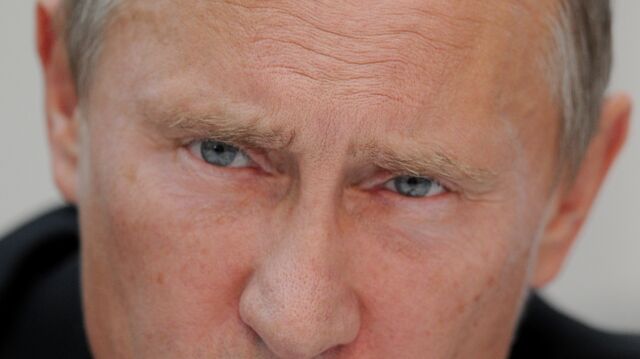 Russian officials said they're still hopeful U.S. President Donald Trump can pull off an improvement in relations, even as they've been shocked by fallout from the political infighting in Washington over alleged Kremlin meddling in the presidential elections.
"We have to look at the glass as half-full not half-empty, and look for ways to move forward in spite of the unique set of circumstances we face," Russian Deputy Foreign Minister Sergei Ryabkov said at a conference in Moscow on Thursday.
There's an "unacceptable" stalemate in relations, though Russia can wait "for the political passions in the U.S. to fade," Kremlin foreign policy aide Yuri Ushakov said at the same meeting. "Who could imagine that the elevated political confrontation in the U.S. could hamper to such an extent the new administration's ability to forge a foreign policy course, especially toward Russia?"
Neither the Kremlin nor the White House has confirmed yet that Trump and Russian President Vladimir Putin will have their first official meeting at next week's Group of 20 summit in Hamburg. Preparations are taking place as bitter political controversy swirls in Washington over investigations into alleged links between Russia and Trump's campaign team.
Early Russian euphoria at Trump's election, after he'd repeatedly praised Putin during the campaign, has faded as skepticism deepens in Moscow at prospects for improving ties. Relations all but collapsed under President Barack Obama's administration amid confrontations with Russia over the war in Syria and the conflict in Ukraine.
Security, Stability
"I won't even list all the problems we just won't be able to deal with if the U.S. continues to turn away from Russia," Ushakov told the foreign-policy conference, named the Primakov Readings in honor of the late former foreign minister and premier Yevgeny Primakov. "At stake isn't only the agenda for Moscow and Washington, but the resolution of global tasks relating to the world's security and stability."
Russia and the U.S. "continue to live according to the logic we inherited from the Cold War," said Konstantin Kosachyov, chairman of the international relations committee of the upper house of the Russian parliament. "In this sense President Trump has much more in common with his predecessors than he differs from them, and that makes me very pessimistic about the future of Russian-American relations."
While Russia canceled planned talks last week with U.S. Under Secretary of State Thomas Shannon in St. Petersburg in response to the U.S. expansion of sanctions over the Ukrainian conflict, it's willing to restart the dialogue, which has only been suspended, Ryabkov said.
Russia is "extremely interested" in a meeting between Putin and Trump, even though "I'm not sure there'll be much positive there," said Frants Klintsevich, deputy head of the defense committee in Russia's upper house of parliament. Everything depends on Trump's "will and his deep understanding that, whatever people may say, he needs to talk to Russia and seek compromise," he said.
Before it's here, it's on the Bloomberg Terminal.
LEARN MORE