Prothena Shares Drop as Short Seller Muddy Waters Attacks
By
Drugmaker slides nearly 10%, steepest decline since February

Muddy Waters founder says Prothena's lead drug not effective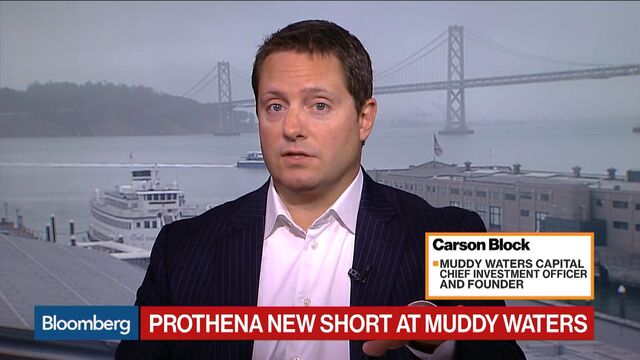 Prothena Corp. dropped after short seller Muddy Waters Capital said that the drugmaker's lead compound doesn't help patients much more than existing therapies.
"Our view is that at least what's been publicly released does not show that it's efficacious," Carson Block, the fund's founder, said of Prothena's lead experimental drug in an interview on Bloomberg TV. Early results showing that patients improved could be attributed to "previous therapies," he said.
Prothena shares fell by the most intraday since February, sliding as much as 9.9 percent after the release of the report. At 10:45 a.m. in New York, they were off 3.8 percent at $53.05.
The company didn't immediately respond to an email seeking comment.
Muddy Waters alleges that Prothena's lead experimental drug, called NEOD001, isn't effective for a rare protein disease beyond standard chemotherapy treatment. The short seller said that even if the drug were approved, it would fall short of analysts' peak sales estimates. 
Prothena, which is testing the compound in a final-stage study, said last year that NEOD001 had been tied to an improvement in patients with AL amyloidosis, a rare disease driven by protein buildup in various organs.
Short sellers like Muddy Waters seek to profit by betting a stock will decline, and sometimes publish research to take their case to the public.
Its most recent target, sofa maker Man Wah Holdings Ltd., is trading around its price before Block attacked it earlier this month. The company has said that Muddy Waters' allegations contain "obvious factual errors" and dismissed the short sellers' allegations about misrepresenting its debt.
Muddy Waters published a report in mid-December alleging that China Huishan Dairy Holdings Co., a dairy-farm operator, was "worth close to zero." The company lost all but two of its directors last month and its stock sank 85 percent in March. China Huishan Dairy has said that Block's allegations are groundless and malicious. 
The short seller was sued for defamation last year after it made a bet against medical-device maker St. Jude Medical Inc., which was taken over by Abbott Laboratories in January. Muddy Waters called the suit an attack on free speech and defended its research.
Before it's here, it's on the Bloomberg Terminal.
LEARN MORE