NATO Allies Inch Toward Defense Budget Goal Championed by Trump
By
Alliance gives first country-by-country projections for 2017

European allies' military outlays seen rising to 1.47% of GDP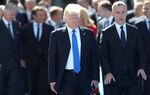 The North Atlantic Treaty Organization said its European members will spend an average 1.47 percent of their economic output on defense this year, inching closer to a goal that U.S. President Donald Trump has championed as he presses allies to foot more of the common security bill.
The increase from 1.45 percent of gross domestic product in 2016 underpins a general boost in defense budgets in Europe and Canada over the past three years. America's NATO partners will expand military outlays by 4.3 percent in 2017 after growth of 3.3 percent last year and 1.8 percent in 2015, bringing the cumulative rise to almost $46 billion.
"This is a significant increase," NATO Secretary General Jens Stoltenberg told reporters on Thursday in Brussels, where he's hosting a meeting of defense ministers from the 29-nation alliance. "We are moving in the right direction when it comes to burden sharing and defense spending."
The NATO ministerial gathering is the first since Trump last month hectored fellow leaders of the alliance to ramp up military spending, echoing a campaign theme of his. At the May 25 summit, NATO upheld a 2014 pledge by members to spend at least 2 percent of their GDP on defense by 2024.

The U.S. has a 72 percent share of the alliance members' total military outlays. The country is projected to spend 3.58 percent of GDP on defense this year, down from 3.61 percent in 2016, while Canada is forecast to increase such spending to 1.31 percent in 2017 from 1.19 percent.
In Europe this year, while only Estonia, Greece, Poland, Romania and the U.K. will meet the 2 percent target, 20 member countries will expand their military budgets compared with 2016, according to NATO.
Germany, the region's No. 3 defense spender behind the U.K. and France, is projected to reach 1.22 percent of GDP this year compared with 1.2 percent in 2016. France is forecast to remain at 1.79 percent this year, while the U.K. is seen slipping to 2.14 percent from 2.18 percent. Overall, NATO members will spend an average 2.43 percent of GDP on defense this year compared with 2.42 percent in 2016, the alliance said.
Last year, only Estonia, Greece, Poland and the U.K. achieved the 2 percent target in Europe. Romania is projected to join them in 2017 by boosting defense spending to 2.02 percent of GDP from 1.41 percent.
Before it's here, it's on the Bloomberg Terminal.
LEARN MORE