markets
Japan's Inflation Edges Up But Remains Far From BOJ's Target
By
Labor market remains tight even as jobless rate rose slightly

Household spending decreased, factory output missed estimates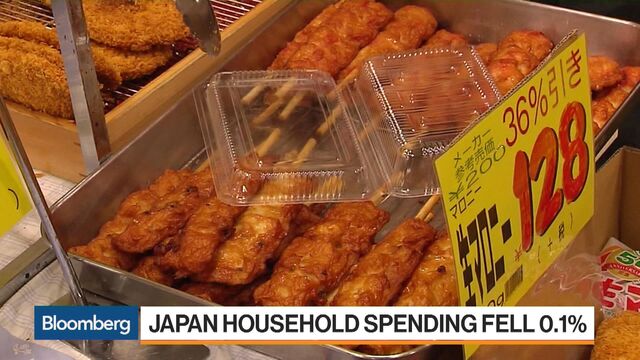 Japan's core consumer prices crept higher for a fifth straight month, but their slow rise means inflation remains far from the Bank of Japan's 2 percent target.
Highlights of Data
Consumer prices excluding fresh food advanced 0.4 percent in May from a year earlier, the fastest gain since December 2014, when the impact of a 2014 sales-tax hike is excluded (estimate 0.4 percent).
Excluding fresh food and energy, prices were unchanged at 0.0 percent (estimate 0.1 percent).
The unemployment rate in May rose to 3.1 percent (estimate 2.8 percent) even as the number of people in work touched the highest level since 2007 and the job-to-applicant ratio increased to 1.49. 
Industrial production decreased 3.3 percent in May from the previous month (estimate -3.0 percent).
Key Takeaways
The BOJ is betting that a growing economy and the tightest labor market in decades will eventually fuel acceleration in wage gains and inflation. So far pay has risen only modestly, and the key inflation gauge has only turned positive since January. The question is how low unemployment must fall to fuel bigger pay increases and stronger inflation. For now, the BOJ's forecast of 1.4 percent core inflation for the 2017 fiscal year is seen as optimistic by private economists, who forecast it at half that level. Some expect the BOJ to revise the figure when it issues its quarterly outlook report in July.
Read more: Waiting for pay to surge in Japan.

Economist Views
The rise in unemployment is temporary and due to more people starting to look for work, according to Takeshi Minami, chief economist at Norinchukin Research Institute.
"Labor participation may be peaking due to supply shortage, which should push up wages and prices," Minami said. "It hasn't occurred at all yet, but I do think we are getting there soon," said Minami, who sees a chance core CPI will rise toward 1 percent later this year.
"I doubt companies will raise wages when the outlook and the growth potential rate aren't picking up," said Hiroshi Hanada, the head of economic research at Sumitomo Mitsui Trust Bank.
It's a robust production result, once you strip out the effects of the Golden Week holidays and the reaction to the large rise in April, said Takuji Aida, chief economist at Societe General SA in Tokyo. 
Aida sees output growing 2.1 percent over the second quarter, which would be five straight quarters of expansion.
Other Details
Household spending fell 0.1 percent in May from a year ago (estimate -0.7 percent).
Tokyo consumer prices excluding fresh food, a leading indicator of national prices, were unchanged at 0.0 percent in June from a year earlier (estimate 0.2 percent).
Overall nationwide prices rose 0.4 percent in May (estimate 0.5 percent).
The decline in production in May from April was mostly due to the transport industry, with some car plants closed in early May for national holidays, according to the economy ministry. 
Overall output is forecast to rise 2.8 percent in June from May, and then drop slightly in July.
Industrial production rose 6.8 percent from a year ago (estimate 6.9 percent).
The labor-force participation rate increased to 60.8 percent, the highest since 2008.
— With assistance by Isaac Aquino, Yoshiaki Nohara, and Keiko Ujikane
(
Adds comments from economists.
)
Before it's here, it's on the Bloomberg Terminal.
LEARN MORE