politics
Democrats Seek Probe of Whether Sessions Broke Recusal Rules
By
They say involvement in Comey firing was reversal of promise

Democrats on two panels write letter to inspector general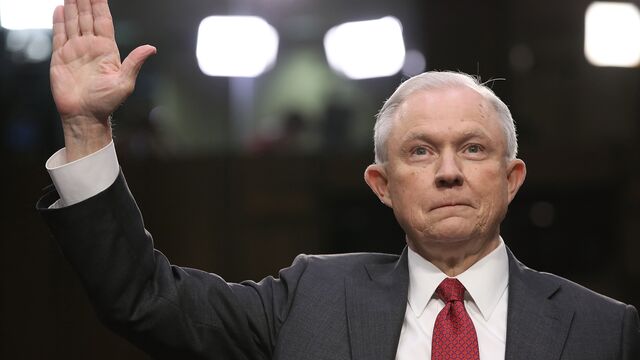 Democrats on two House committees want the Justice Department's inspector general to examine whether Attorney General Jeff Sessions's involvement in the firing of FBI Director James Comey broke his promise to recuse from Russia-related matters.
Democratic members of the Judiciary and Oversight committees asked Inspector General Michael Horowitz in a letter Thursday to have "your office investigate and report back to us with any findings and recommendations you determine are warranted."
The lawmakers said that under existing regulations, a violation of Justice Department rules on recusal could result in removal from office.
Horowitz may find himself navigating complaints from both sides of the political aisle. 
On Wednesday, Bloomberg News reported that President Donald Trump's lawyers decided to delay filing a complaint against Comey with Horowitz's office to avoid antagonizing Special Counsel Robert Mueller, who is investigating ties between the president's campaign and Russian officials.
But the person said the president's lawyers still plan to file a complaint at some point against Comey, alleging memos he wrote documenting conversations with the president were illegally "leaked" by him to news reporters.
The Democrats say in their complaint that Sessions collaborated with Trump to fire Comey.  They cite documents released by the White House and testimony before Congress to argue that Sessions reversed his recusal. On March 2, the attorney general said he would recuse himself "from any existing or future investigations of any matters related in any way to the campaigns for President of the United States."
Documents and other material show that Sessions had direct conversations with the deputy attorney general about Comey and made a recommendation that led to Comey's firing by Trump on May 9, according to the Democrats.
The Democrats' letter said Sessions's involvement reflects "a lapse in judgment by our nation's top law enforcement official and appear to violate multiple promises made by the attorney general and his aides."
The inspector general's office and the Justice Department's press office didn't immediately respond to requests for comment.
Before it's here, it's on the Bloomberg Terminal.
LEARN MORE