Your Evening Briefing
Bloomberg News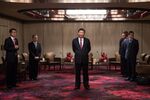 Chinese President Xi Jinping has arrived in Hong Kong to mark the 20th anniversary of China's rule over the former British colony, but protests began before his flight had even touched down. It's the first presidential visit since pro-democracy activists shut down parts of the city in 2014, and comes at a time when China's commitment to the handover deal — which promised Hong Kong a "high degree of autonomy" until 2047 — is under scrutiny. More than two dozen pro-democracy activists have already been arrested, including Joshua Wong, who helped lead 2014's protests. — Alyssa McDonald
Hong Kong versus Singapore. In the race to lure talent for global firms' regional headquarters, Hong Kong and Singapore have long been neck-and-neck. Hong Kong has higher salaries on its side, but its housing is much more expensive, despite Singapore's ongoing property cooling measures. Meanwhile the Lion City's schools may attract some would-be residents, but the cost of driving will put others off. For expatriates considering which city to choose, we've got the ultimate Hong Kong versus Singapore guide.
The ringgit is easily Asia's strongest currency. This quarter, the Malaysian currency climbed twice as fast as the next best performer, the Chinese yuan. Malaysian stocks and bonds are also back in favor thanks to signs of an economic turnaround. Prime Minister Najib Razak has weathered political attacks and protests going back to 2015 over allegations involving state-owned 1Malaysia Development Bhd., but may use the country's change of fortune as an opportunity to call an early election to cement his hold on power.
Ex-billionaires see their fortunes wiped out. Three former billionaires who became wealthy by taking their companies public in Hong Kong shed more than 91 percent of their wealth amid a market rout that's roiling small-cap stocks in the city. Meanwhile, here's the investing approach that's helped Elina Fung's small-cap fund beat 97 percent of its peers over the past five years.
Yes, your parents' status does influence your earning power. There's a clear link between what your parents earned and your own wages in practically every country for which evidence is available, according to a new report. In the most affected countries, workers are less motivated, human capital gets wasted and high levels of inequality damage economic growth. In Asia, much attention is paid to rising inequality in China, but the country does have mobility thanks to four decades of rapid growth. However, that may change as the economy matures.
How a billionaire business dynasty fell from grace . Alongside the bankruptcy of Takata, the Japanese auto parts maker derailed by vast air-bag recalls, another downfall has played out  — that of the company's founding Takada family. In a decade-long drama, Takata's faulty air-bag inflators have been linked to at least 17 deaths, bankrupting the company and enraging investors, resulting in a $2.7 billion hit to the family's fortune.
Making an iPhone in the U.S. isn't such a great idea. It would be easy to assume Apple's iconic smartphones are assembled in China purely because wages are lower. But China's real advantage is the cluster effect: most of the components needed to make a phone are available within a 50-mile radius. Ten years after the iPhone was introduced, attempts to recreate this cluster elsewhere in the world have so far failed.
A $6,895 digital camera that even analog photographers can't put down. Photographer and old-fashioned film lover Gillian Laub road-tested Leica's newest digital camera at a family gathering. Light but sturdy, the M10 performed well in low light and sunshine. "These images are gorgeous," Laub said — once she was used to the focus features.

Before it's here, it's on the Bloomberg Terminal.
LEARN MORE