business
Brexit Bulletin: May Faces Biggest Parliamentary Test
By
May faces parliamentary vote on her legislative program

Labour to push plan for U.K. to keep single-market benefits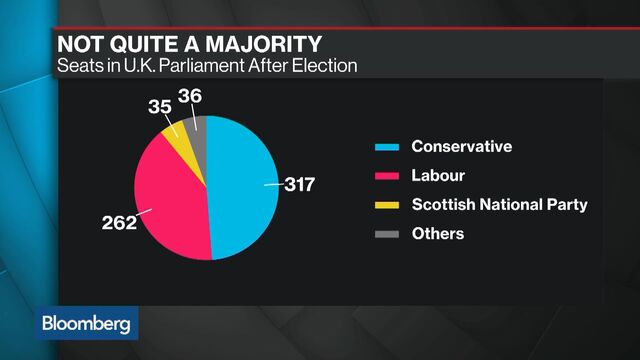 Sign up to receive the Brexit Bulletin in your inbox, and follow @Brexit on Twitter.
Prime Minister Theresa May's minority administration faces its biggest test yet on Thursday as Parliament votes on her legislative program.
The opposition Labour Party is already seeking to introduce elements of its manifesto via amendments, including one that would demand Britain tries in the Brexit talks to keep the "exact same benefits" of the European Union's single market and customs union. Labour leader Jeremy Corbyn complained of a "race-to-the-bottom Brexit."

The vote on amendments will take place in the London afternoon, with a vote on the full program scheduled for later in the day.
May's government cleared its first obstacle yesterday when Parliament narrowly rejected Labour's push to end years of public service cuts. The call to end the pay curbs for public sector workers was rejected by 323 votes to 309. That's in line with May's effective majority in the House of Commons of 13, relying on the backing of the Northern Irish Democratic Unionist Party.
The prime minister on Wednesday also sought to cover over cracks in her Cabinet by saying she won't accept an "unlimited" transitional phase after Brexit.
An EU Concession?
The embattled premier might have found some rare solace in signals from Brussels on Wednesday.
According to three officials, the EU is willing to give ground on its demand that its judges protect the future rights of EU citizens in the U.K.
That would potentially eliminate a major obstacle to progress in the Brexit negotiations and be a significant concession to the U.K., write Bloomberg's Ian Wishart and Aoife White. Such a pullback would put the onus back on the U.K. to increase the level of protection it's offering, which the EU says is below existing rights.
The British have signaled a willingness to make a deal, too. Brexit Secretary David Davis said on Sunday that the U.K. would consider working with the EU to establish a new arbitration body featuring representatives from both sides. This is one of the alternatives that the EU would be willing to consider, one of the officials said.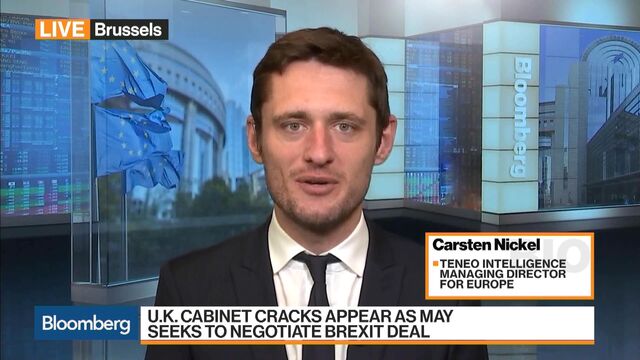 Still, in a document obtained by Bloomberg on Wednesday, the European Commission said May's proposal contained a "general lack of clarity" and left "many issues still to be clarified." It said there was not enough legal certainty or an offer of life-long protection against future changes in British laws.
A speedy agreement is needed to ensure a continued flow of young workers coming to Britain, the Recruitment and Employment Confederation said in a report on Thursday.
A Firm Brexit
Neither soft not hard, but firm.
That's the forecast for Brexit from Bloomberg Intelligence economists Jamie Murray and Dan Hanson.
They explain that the election increased the chances of both a hard and soft withdrawal occurring. A hard one is more likely than before because time is running out and a fragile political situation could impede progress. On the flip side, the probability of a soft Brexit has risen because the government may need cross-party support to get a deal through Parliament.
Despite the increased possibility of the extremes occurring, Dan and Jamie still predict a staged departure from the single market and a transition toward a trade agreement. That's what they call a "firm Brexit."
"It would take either a significant shift in Britain's political landscape or the EU's negotiating stance to alter that," they wrote in a report to clients on Wednesday.

Brexit in Brief
Governor Mark Carney says the Bank of England's Monetary Policy Committee may need to begin raising interest rates
London luxury home values fell 6.8 percent in the year since the Brexit vote, although country-wide house prices rebounded in June
The EU should consider introducing common taxes as it seeks to cover a more than €10 billion annual financing hole created by Brexit, says the European Commission
Stagecoach says uncertainty about the future of the economy after last year's Brexit vote is taking a toll on train bookings
A quarter of Conservative members of Parliament favor a softer exit from the European Union than May plans, says study by Edelman
Confederation of British Industry President Paul Drechsler says Brexit should mean "no tariff or non-tariff barriers"
EU starts listing every tradable item for after Brexit, including bull semen, the Financial Times reports
Caisse de Depot et Placement du Quebec's Chief Executive Officer Michael Sabia tells Reuters that the pension fund is "pretty cautious right now about making meaningful and significant investments in London real estate"
Insurer MS Amlin, a subsidiary of Mitsui Sumitomo & AD, will set up a European unit in Brussels because of Brexit, L'Echo reports.
And Finally…
Britain's need to allow high-skilled workers to keep coming to Britain after Brexit can be found on LinkedIn.
Using data from the website, researchers Mikkel Barslund and Matthias Busse of think tank CEPS found that the U.K. each year gains over 6,000 IT experts more than it loses to the EU. These workers also tend to be more qualified than their domestic counterparts.
"This reliance on the EU for IT recruitment — one in 10 new hires comes from the EU — suggests that even if the U.K. is not aiming to restrict high-skilled immigration, curbing overall immigration could have unintended negative consequences for its capability to attract talented EU nationals in the future," said the authors of the new report. "The UK government should perhaps bear this in mind during negotiations with the EU-27."
For more on Brexit follow Bloomberg on Twitter, Facebook and Instagram
Before it's here, it's on the Bloomberg Terminal.
LEARN MORE