Anti-Refugee Push Puts Polish Ruling Party in Driver's Seat
By
Law & Justice regained strong lead in polls 2 years into term

Generous parent benefits, warnings of terrorism lure voters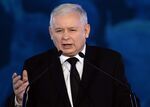 Poland's ruling party is doubling down on anti-immigrant rhetoric to shore up its grip on power.
Law & Justice will meet Saturday almost two years after it came to power promising to return Poland to its Catholic roots and help the poor. Having dragged the party back to the top of opinion polls by shouting about danger from migration and terrorism, Chairman Jaroslaw Kaczynski will seek to consolidate that position by underlining the government's social generosity.
Less than a week before Poland hosts U.S. President Donald Trump, government officials are driving the party's message home. They're fanning out on Twitter posting maps of Europe with blood-red ink covering areas they say are victims of refugee-driven terrorism. They vow to "protect" Poles and their children from immigration and keep the country of 38 million "safe" from attacks. They're part of a wave of politicians in the EU's eastern wing rejecting a plan to help tackle Europe's worst migrant crisis since World War II.
"The anti-immigration rhetoric is fueling Law & Justice now -- simply put, the party is managing fear," said Anna Materska-Sosnowska, a political scientist at Warsaw University. "This will be continued as the party isn't changing its anti-EU course."
The strategy is one that's found success in nearby Hungary, where Prime Minister Viktor Orban has bolstered his popularity by defying the EU's migration quotas. Poland, the biggest net recipient of EU aid, is already in trouble with the bloc, which accuses it of backsliding on democracy.
Facing Punishment?
The European Commission last year opened the first-ever probe into whether a member is adhering to the bloc's values after Law & Justice forced through judicial changes ruled illegal by the country's top court. French President Emmanuel Macron, who defeated Marine Le Pen on a pro-EU platform, warned Poland that countries "must be ready for consequences" for turning their backs on democracy.
More than 250 billion euros ($286 billion) were or will be spent there since the nation joined the bloc with other ex-communist states in 2004. That's equivalent today to more than the U.S.-funded Marshall Plan provided to western Europe after World War II.
"We won't agree to any blackmail from the EU, we won't take part in the folly of Brussels elites," Prime Minister Beata Szydlo told parliament last month. "Where are you heading, Europe? Get up from your knees and wake up, or you'll be mourning your children every day."
Interior Minister Mariusz Blaszczak echoed went further.
'Social Disaster'
"Receiving refugees would lead Poland to social disaster -- just look at Western Europe," he said. "Luckily" opposition parties that call for bringing in refugees "aren't in power, so Poland is safe.
Law & Justice, which has won over voters in the EU's seventh-poorest country with generous social handouts to families, intensified its rhetoric since it suffered a series of challenges after its first year in power. Protesters forced it to back down from a blanket abortion ban in October and demonstrators later shut down parliament over an attempt to curb media freedom.
In April, surveys showed Civic Platform, the opposition party previously led by EU President Donald Tusk, drawing level in support. Law & Justice has since pulled clear, with 42 percent backing compared with 21 percent for Civic Platform, a CBOS poll showed.
Kaczynski, the power behind Szydlo's administration despite having no role in government, must tread carefully. Even though the party has vowed to pull Poland out of the "European mainstream" and return it to its Catholic roots, Poles are among the most ardent supporters of the EU, with over 80 percent viewing membership as positive. Kaczynski, the 68-year-old former ally of Solidarity leader Lech Walesa, has denied he's pushing for a Polish version of Brexit.
At its meeting in Przysucha, a town of 6,700 people 100 kilometers (60 miles) southwest of Warsaw, the party will also review the second main pillar of its support -- handouts to families. The offer -- 500 zloty ($134) a month for each child parents have after the first -- amounts to more than 10 percent of the average wage. That's helped Law & Justice maintain broad support across Poland despite opposition to its EU stance.
"Law & Justice is here to stay," political scientist Materska-Sosnowska said. "The outlook that the pro-European forces will gain power soon is very dim."
— With assistance by Wojciech Moskwa
Before it's here, it's on the Bloomberg Terminal.
LEARN MORE