Add Aetna to the List of Companies Leaving Connecticut
By
After 164 years in 'insurance capital,' it's leaving for NYC

Bond market extracting rising yield penalties from state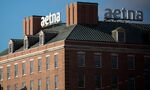 For every leak Connecticut Governor Dannel Malloy tries to plug, his ship seems to spring another.
As the Democrat contends with a $5 billion budget deficit, one of his state's most iconic employers, Aetna Inc., announced that it's moving its headquarters to New York City. And the company, which has called Hartford home for 164 years, will be taking 250 jobs with it.
The insurance giant's departure is the latest nick to the economy of Connecticut, which, unlike the rest of the U.S., still hasn't recovered all the jobs lost during the recession. Last year, General Electric Co. announced it was leaving for Boston. And with tax revenue falling short of forecasts, Connecticut's bonds were downgraded by all three major rating companies last month, leading investors to push its bond yields to record highs over top-rated securities.

The corporate loss is especially resonant for Hartford, which has been coined the "Insurance Capital of the World," thanks in part to Aetna's long-standing presence.
Malloy has been struggling to forge agreement with lawmakers to close the budget shortfall before the next fiscal year begins on July 1. Last month's downgrades have left it with a lower rating than any state but Illinois and New Jersey.
The governor said the loss of Aetna underscores the state's need to steady its finances, even though the vast majority of the company's 6,000 employees will remain in Connecticut.
"This is an important reminder that to be competitive, Connecticut state government must immediately take the necessary steps to produce a balanced biennial budget with recurring measures to reduce spending and structural solutions to our long-term problems," he said.
Hartford Mayor Luke Bronin was more direct. "We can use the loss of Aetna's flag as a rallying cry to put Connecticut on a sound fiscal path," he said.
— With assistance by Martin Z Braun
Before it's here, it's on the Bloomberg Terminal.
LEARN MORE