Trump to Press Trade Deficits in Autos, Steel With Korea's Moon
By and
South Korea is second-largest foreign supplier of U.S. steel

Auto trade sore point between U.S. and Korea for years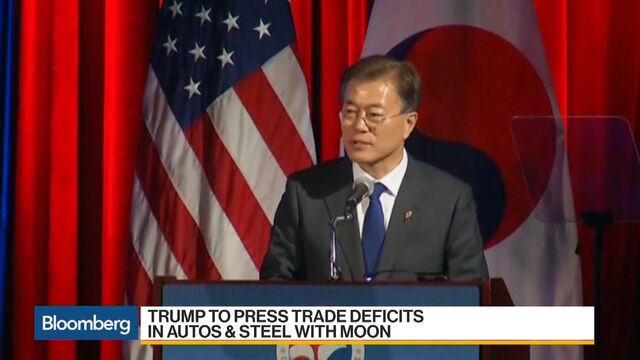 President Donald Trump plans to press South Korean President Moon Jae-In on trade imbalances, particularly in autos and steel, when the two leaders meet this week, administration officials said.
Trump wants South Korea to reduce barriers to U.S. auto exports to the country and is concerned by the "enormous" amount of surplus steel the U.S. imports from the country, especially shipments that come via China, one of the officials said.
As a presidential candidate, Trump slammed the U.S. trade agreement with South Korea as a "job-killing" deal.
Trump ordered a Commerce Department investigation into whether a flood of steel imports threatens U.S. national security, with a report due out as soon as this week. South Korea is the second largest foreign supplier of steel to the U.S., after Canada.
The administration could impose tariffs or quotas on steel imports if the Commerce Department determines a threat to national security exists under the rarely used Section 232 of the Trade Expansion Act of 1962.
U.S. automakers' access to South Korea has been a sore point in trade relations for years. Former President Barack Obama renegotiated a free trade agreement with South Korea that his predecessor George W. Bush reached with South Korea in part gain better terms for U.S. automakers. Trump has said that he plans to either renegotiate or scrap the trade pact, known as Korus.
The U.S. ran a $27.6 billion trade deficit with South Korea in 2016, according to Census Bureau data on trade in goods. South Korea only imported $1.6 billion in U.S. autos while it exported $16.1 billion in autos to the U.S. that year.
Commerce Secretary Wilbur Ross on Wednesday applauded an announcement by South Korea's Samsung Electronics Co. that it will invest $380 million in a new home-appliances facility in South Carolina that will create 954 U.S.-based jobs.
The summit in Washington, which will include a dinner between the leaders Thursday and official meetings on Friday, will be Moon's first meeting with a foreign leader since winning elections last month.
— With assistance by David Welch
Before it's here, it's on the Bloomberg Terminal.
LEARN MORE