New Romanian Cabinet Takes Office as Political Tension Eases
By
Majority of lawmakers voted in favor of Prime Minister Tudose

Leu weakened by finance minister's remarks on pension revamp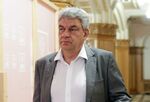 Romania's new government won a vote of confidence in parliament, confirming the appointment of Mihai Tudose as prime minister and ending a turbulent two weeks in which his predecessor was ousted by his own party.
The Social Democrats, along with their junior partner ALDE, tested their majority in the 465-seat assembly after several lawmakers were expelled for failing to back efforts to oust outgoing Premier Sorin Grindeanu. To shore up support for the new cabinet, Social Democrat leader Liviu Dragnea enlisted the country's ethnic-Hungarian party, resulting in 275 votes in favor of Tudose on Thursday.
"I trust Mr. Tudose to be a good manager and he'll have to prove this thorough the cabinet's performance," Dragnea said before the vote. "Parliament as an institution is much stronger now after the no-confidence motion against Grindeanu, and it received the role it deserves."
The confirmation of a new government ends a power struggle within the Social Democrats that pitted Dragnea against Grindeanu. Dragnea selected Grindeanu for premier in January before turning on him over the cabinet's performance. While Dragnea and other party members criticized the government, many ministers are poised to retain their old jobs.
The political turmoil in a nation that's had 13 prime ministers in 27 years sent the leu to its weakest against the euro since 2012. While it rebounded as President Klaus Iohannis accepted Tudose's candidacy, it was 0.5 percent weaker after Finance Minister Ionut Misa hinted at a pension revamp that was later denied by Tudose.
'Bad Governing'
Iohannis slammed the ruling coalition for putting the country into a crisis because of "bad governing" and asked them to assure fiscal stability and predictability without sudden changes.
With a January-May budget deficit of 0.3 percent of gross domestic product and state revenue at a 10-year low, the ruling coalition amended its governing program to delay a cut in the value-added tax to 2019 from 2018. Minimum-wage and pension increases will continue through 2020, while a tax exemption for doctors will start next year.
The new cabinet also plans to cut income tax to 10 percent from 16 percent starting next year and fully eliminate dividend taxes, while introducing a "solidarity contribution" and additional levies for "unhealthy products."
In terms of appointments, Tudorel Toader remains justice minister, while Toma Petcu will continue as energy minister. Lawmaker Mihai Fifor takes over the economy ministry.
Before it's here, it's on the Bloomberg Terminal.
LEARN MORE