Congo Should Enforce Mining Code, Randgold Boss Says
By
Fiscal changes proposed by government 'too onerous:' Bristow

Congo's parliament is considering a review of 2002 code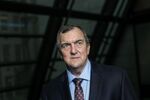 The Democratic Republic of Congo's government should ensure its current mining law is applied evenly before trying to change it, according to the chief executive officer of one of the country's biggest investors.
"Instead of trying to garner more, apply the law," Randgold Resources Ltd. CEO Mark Bristow said by phone from Johannesburg. "This code needs to be reformed, but reformation doesn't mean taking more from fewer, because a significant number of mining investors in DRC don't work under the code."
As few as a third of mining projects in Congo strictly follow the provisions of the 2002 mining code, either because the mines have exemptions or are illegally circumventing the regulations, according to Bristow.
Congo is now trying to change that law to increase the share of mining revenue that accrues to the state. A revised mining code that was first submitted to parliament in 2015 and opposed by the industry was revived by the government last month. The proposal, currently under review by lawmakers, includes increasing profit taxes, royalties and the government's free share of new mining projects.
The fiscal changes are too onerous, said Bristow, whose company works alongside miners including AngloGold Ashanti Ltd. of South Africa and Toronto-based Banro Corp. Their mines have helped increase gold production from almost nothing in 2011 to a high of more than 25 tons last year.
"When you talk about it, it doesn't sound bad but no one's done the numbers," Bristow said
Engagement Opportunities
Congo's Mines Ministry said companies had participated in discussions on the draft revision in 2014 and 2015 and would have further opportunities to engage on the text.
"The draft is with parliament, if there are points they think pose problems it is not the end of the world, they can raise them with the parliamentary commissions," Valery Mukasa, chief of staff at the ministry, said by phone from Kinshasa, the capital. He declined to comment on the viability of specific reforms as the process is ongoing.
A gold project that would produce 3 million ounces of gold over time that operates in line with the requirements of the proposed mining code would make no return, with all the revenue accruing to the state in taxes, according to Randgold.
The current mining code includes a 10-year stability clause, so legislative changes would have no immediate effect on Randgold's 600,000 ounce-per-year Kibali project, the biggest gold producer in the country. But Randgold has four exploration joint ventures in Congo and says it's committed to building further mines.
'Zero Return'
"No one is going to invest in a code that gives you a zero return," Bristow said. Congo should aim for a fiscal regime that enables "mining companies and government to split the revenue after capital is repaid," he said.
Bristow's comments followed a warning last week from President Joseph Kabila's cash-strapped government that some mining companies are not repatriating 40 percent of their revenue to Congo, as required by the 2002 code. Low mineral prices in 2015 and 2016 hurt government receipts, slashed foreign-exchange earnings and led to a rapid devaluation of the Congolese franc, the world's second-worst performing currency this year, according to data compiled by Bloomberg.
The president "has charged me to demand that mining operators repatriate their foreign exchange as required by the law," Economy Minister Joseph Kapika told a mining conference in the southeastern city of Lubumbashi on June 24.
Randgold says it has repatriated an average of 48 percent of revenue since pouring its first gold in 2013 and that the minister's words underline the government's failure to enforce the existing legislation.
"For such senior politicians to make statements like that is misleading to the public, civil society and the international investment community at large," Bristow said. "It's unhelpful and it's not factual and that doesn't help anyone."
Congo is Africa's biggest copper producer and the world's biggest source of cobalt. Companies including Glencore Plc and China Molybdenum Co. also operate in the country.
Before it's here, it's on the Bloomberg Terminal.
LEARN MORE