May's Pay Policy in Confusion After Contradictory Comments
By and
Ministers hint cap could lift; her office says no change

Premier's minority government wins first parliamentary test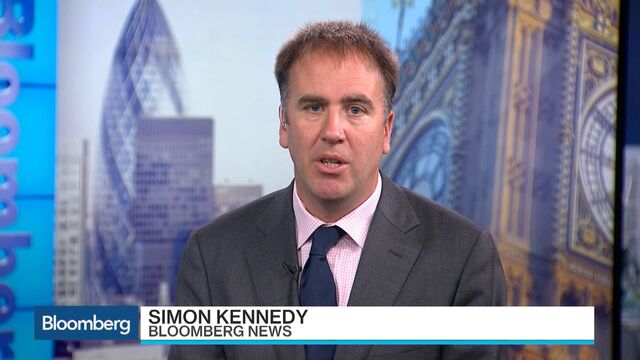 Theresa May's austerity policy was mired in confusion after ministers and her own office issued contradictory comments about public-sector pay, as her government narrowly defeated an opposition Labour Party attempt to end years of austerity.
May's office suggested at 1 p.m. on Wednesday that a 1 percent cap on annual public-sector pay rises, in place since 2013, might be lifted. That came after Defence Secretary Michael Fallon and Transport Secretary Chris Grayling hinted the situation was under review. Three hours later, the prime minister's spokesman, James Slack, told reporters that "the policy has not changed."
Early on Wednesday evening, May's government won its first test in Parliament, defeating a Labour amendment to the Queen's Speech -- the prime minister's legislative program -- to end the pay curbs by 323 votes to 309. That's in line with May's effective majority in the House of Commons of 13, relying on the backing of the Northern Irish Democratic Unionist Party.
The contradictory statements on pay, however, have served as a reminder of the vulnerability of her administration, which doesn't have enough Commons seats to govern alone.
Labour's spokesman on health, Jonathan Ashworth, told lawmakers on Wednesday the mixed messages coming from the government amounted to a "U-turn on the U-turn."
"All the honorable members who have spoken out and said public-sector workers deserve a pay rise," he said. "Well, we can give them a pay rise tonight if they vote with us."
Inconsistent Positions
The mixed message comes a day after Brexit Secretary David Davis accused Chancellor of the Exchequer Philip Hammond of taking inconsistent positions on whether the U.K. should seek a bridging deal as it leaves the European Union.
On public-sector pay, the possible shift partly reflects the new political reality. Instead of the increased majority she expected from the general election, May now has no majority at all, and many Conservative lawmakers have been spooked by the surprise result, which they blame partly on the government's austerity policies.
Hammond has already said he accepts that voters are "weary" of spending restraint, and its effects on services. Fallon went a step further on Wednesday, when he was asked whether military personnel could expect above-inflation pay rises.
"That is a huge question," he said. "It is partly a matter for the pay-review bodies but it also involves a forecast of where you expect inflation to be. I think we expect inflation to start falling back again from the autumn onwards. This is something we have to consider, not just for the Army but right across the public sector as a whole."
Grayling then told the BBC that the government was "going to have to think through what we do come the next budget."
Apparently confirming a shift, a spokesman for May's office told reporters in London that she understood voter frustration and would consider recommendations from independent pay-review bodies. But Slack, May's spokesman, denied this represented a change in policy.
"At the moment, the government is going through the work of the public-sector pay-review bodies and will respond later in the year," he said. "My understanding is that in the past sometimes we've accepted pay recommendations, sometimes we haven't."
— With assistance by Charlotte Ryan
Before it's here, it's on the Bloomberg Terminal.
LEARN MORE